Nutritional Value Of Moringa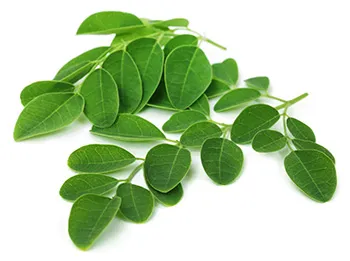 The real nutritional power of the Moringa plant is found in the leaves and pods, which hold a wide range of essential proteins, vitamins and minerals. It is a rich source of essential amino acids, which are the building blocks of proteins in the body. What's more, the plant contains a significant amount of vitamins, including vitamin A, vitamin B1 (thiamine), B2 (riboflavin), B3 (niacin), B6 and vitamin C. Beneficial minerals found in Moringa include calcium, potassium, iron, magnesium, phosphorus and zinc. The plant contains a very low amount of fat and poses no risks to cholesterol levels.
Just one cup of freshly chopped leaves (21 grams) contains:
Protein: 2 grams
Vitamin B6: 19% of the RDA
Vitamin C: 12% of the RDA
Iron: 11% of the RDA
Riboflavin (B2): 11% of the RDA.
Vitamin A (from beta-carotene): 9% of the RDA.
Magnesium: 8% of the RDA.

How Is Moringa Consumed?
The leaves are the part that is typically consumed , although the whole plant (roots, bark, flowers, seeds and fruits) is consumable. Moringa is sold in the form of powder, pills, herbal tea or even in bulk with dried whole leaves.
Moringa Benefits For The Body
Here are some of the health benefits of using Moringa for different parts of the body:

Stomach:
The isothiocyanates present in this plant are effective in the treatment of abdominal disorders such as constipation, gastritis and ulcerative colitis. Studies have shown that Moringa extract supplements like our Super Organic Moringa Powder Capsules can be used as an effective herbal alternative to commercially available synthetic treatments. Moringa contains antibiotic and antibacterial properties, and it exerts inhibitory effects on the growth of various harmful pathogens. This is why it can be applied to wounds or insect bites to soothe irritation quickly.

Skin:
Moringa powder can play an important role in skincare due to its vast array of beneficial nutrients. The detoxifying properties of Moringa extract can help to remove toxins and harmful pollutants from the body, and can also reduce the appearance of wrinkles and other signs of ageing. Its high protein content aids in protecting dermal cells from damage caused by heavy metals, such as mercury and cadmium. The powder can be mixed with sandalwood paste and applied to the face for smooth, glowing and blemish free skin.

Bones
Moringa can help strengthen bones due to its high concentration of essential minerals such as calcium and phosphorous. The anti-inflammatory properties of Moringa can be used to soothe painful conditions such as arthritis, and can speed up the healing process of various bone ailments including fractures.

Hair:
Nutritional deficiencies can hinder hair growth and make your hair damaged and brittle. An ideal option for those who don't take collagen for hair loss, this powder form contains all the essential nutrients, vitamins and minerals necessary to protect your hair and improve its quality. It serves as a valuable conditioner for the scalp, and can strengthen roots and stimulate hair growth.

Eyes:
Moringa can provide protection against retinal damage. It is said that Moringa can help to prevent dilation of retinal vessels, which prevents the thickening of capillary membranes, inhibits retinal dysfunction, and keeps the retinal vasculature intact.

Liver:
Moringa contains high concentrations of polyphenols in its leaves and flowers that can help to protect the liver against oxidation, toxicity, and damage. The oil form can also help to restore liver enzymes to normal levels, reduce oxidative stress, and increase protein content. The liver is responsible for blood detoxification, bile production, fructose metabolism, fat metabolism, and nutrient processing, and it can only fulfil these functions with the aid of liver enzymes, so it's vital they stay at normal levels. For instance, lower levels of hepatic enzymes can impair its ability to filter the blood.

Teeth:
Moringa Powder is a source of magnesium, with a 10g serving providing 19.1% of your daily requirement. Magnesium is essential for maintaining healthy teeth making it great for kids. Moringa powder benefits are also known for its high levels of calcium. Therefore, even when it's not used in products specifically targeted toward oral health, it still goes a long way toward enhancing the strength of your teeth to avoid damage later on in life.
What Are The Benefits Of Moringa Capsules?
Helps Stabilise Your Mood & Protects Brain Health
As a high protein food and a rich source of the amino acid tryptophan, it helps to benefit neurotransmitter functions, including those that produce the "feel good" hormone serotonin. This herbal delight is also rich in antioxidants and compounds that may improve thyroid health, which makes it beneficial for maintaining high energy levels plus fighting fatigue, depression, low libido, mood swings and insomnia.
Anti-Stress
One of the key benefits is its high magnesium content. Magnesium is essential for normal psychological function and the normal functioning of the nervous system so, therefore, can be a useful aid in de-stressing the body.
Weight Loss & Moringa
It shows great promise as a weight loss aid. It appears to have a stimulating effect on the metabolism rate, helping the body to burn calories faster and more efficiently. The high Vitamin B content of the plant aids in digestion and the conversion of food into energy rather than stored fat. It also helps you to eat less by suppressing your appetite and cravings. This means that you can safely use Moringa along with many other superfoods for weight loss.
Health Benefits Of Moringa Powder & Moringa Tea
The potential health benefits of Moringa powder and Moringa tea are vast. They include the promotion of healthy skin and hair thanks to its rich antioxidants content and its ability to improve your nervous system. Moringa can be used in many different ways to enjoy its myriad health benefits.
Dried Moringa Tea Leaves Or Powder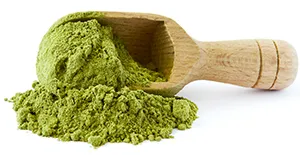 It takes roughly seven pounds of Moringa leaves to make one pound of dried powder. The powder benefits are found in the leaves as they are considered the most potent parts of the plant, containing the most antioxidants and available macronutrients. In regard to the concentration of phenolic compounds, amino acids and volatile oils, the stem and root portions of the plant appear to have the least bioactive nutrients compared to the leaves. Look for dried leaves in capsule, powder or tea form, and take them with a meal, rather than on an empty stomach.
Stimulates endurance: Being a complete package of vitamins, minerals, antioxidants and phytonutrients, this supplement is ideal for boosting your energy and endurance as well as increasing concentration. Students can use to improve concentration while athletes can benefit from increased endurance during exercise. In addition, it helps with weight loss because it provides enough energy and vitality to reduce the need to eat to increase energy levels.
Diabetes control: It is extremely beneficial for diabetic patients. Moringa Oleifera capsules or a drink made from Moringa powder can be consumed to maintain normal sugar levels. Thus, it can help as a supplement to aid home remedies for diabetic patients.
Antioxidant: Moringa powder is rich in catechin polyphenols, particularly epigallocatechin gallate (EGCG), which is a powerful antioxidant to inhibit the growth of cancer cells.
Lowers cholesterol: It is also effective in lowering LDL cholesterol and inhibiting the formation of abnormal blood clots.
Control blood pressure: Another benefit of the powder form is the soothing ability that allows it to lower blood pressure and promotes good sleep. It has the potential for use in relation to sleep problems such as Insomnia certain properties that can treat sleep disorders.
Detox: It is often used to purify water because of its detoxifying effects. Moringa is a coagulating agent, which means that it turns viscous in form, and can attach itself to dangerous bacteria and other agents. This property of thickening or curdling when consumed helps eliminate toxins from the body.
Good for pregnant and lactating mothers: It is particularly beneficial for pregnant and lactating women who are at risk of nutritional deficiencies. Around 6 tablespoons of Moringa powder satisfy almost all of a woman's daily iron and calcium needs during pregnancy and lactation.
Minor treatment infections: Due to its medicinal value, this supplement is used for the treatment of minor bacterial and fungal infections.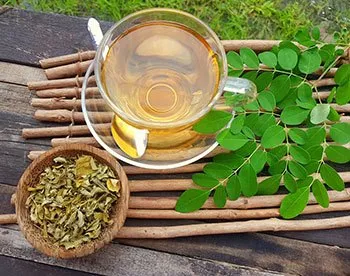 This type of Moringa is made from dried leaves steeped in hot water, just like many other beneficial herbal teas. The most nutrient-dense types are organic and dried slowly under low temperatures, which help preserve delicate compounds aiding the benefits of Moringa tea. Avoid boiling the leaves to help retain the nutrients best, and don't cook with Moringa if possible.
In Conclusion...
In short, Moringa is an extremely versatile ingredient that has many health benefits. It's a great addition to your daily diet. Do you have questions about Moringa? Do not hesitate to leave us a comment.