All-Natural Supplements
GMP-certified and GMO-Free
Free UK delivery on orders over £30
Save on postage today
100% Customer Satisfaction
We offer a full 90-day money back guarantee
HempSeed Oil
55,500mg | 100% Cold Pressed Pure HempSeed Oil
Buy 1

£14.99

£0.25 / ml

Buy 2

£26.98

£29.98 You Save 10%

£0.22 / ml

Buy 3

£35.97

£44.97 You Save 20%

£0.20 / ml

Buy now and earn 1 WeightWorld Points ?
Key Features
Re-energises your mind & body
Ideal for the brain & joints
Natural source of Alpha-Linoleic Acid & other macro & micronutrients
A powerhouse of essential fatty acids, omega 3,6,9
Helps in easing muscle tension | Perfect for post-exercise recovery
Topical application also supports smooth skin & tackle breakouts.
Take 2ml hemp oil daily for 1850mg dose of pure hempseed oil per serving.
Money Back Guarantee
Vegan
Gluten-free
GMP
What is WeightWorld's HempSeed Oil?
Discover the benefits of hempseed with WeightWorld's HempSeed Oil. Our oil is pure, 100% Organic and formulated with a potent 1850mg concentration. A few drops a day of this cold-pressed, multi-nutritional seed, helps support a healthy & active lifestyle of both men & women.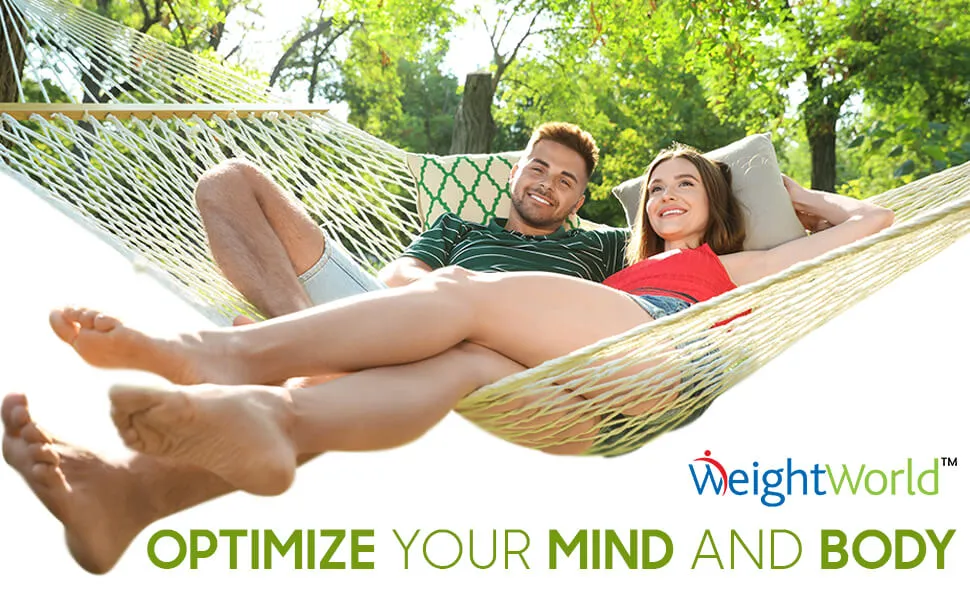 What are the benefits of HempSeed Oil?
Despite the controversy surrounding HempSeed in previous decades, it is now gaining more and more traction in the supplement world as industry professionals begin to discover the number of benefits it might have. HempSeed's most potent and concentrated form, HempSeed Oil, is typically the ingredient people are looking for to provide optimal results.
Brilliant to rejuvenate the mind and body
Ideal for joint mobility
A powerhouse of essential fatty acids, omega 3,6,9 for vegans
Great for muscle tension and recovery
Great for skin and complexion when applied topically
Why choose WeightWorld's HempSeed Oil?
We pride ourselves on providing our customers with the most effective and premium supplements to help achieve optimal results! Our hempseed oil is cold-pressed, naturally sourced and pure to give maximum absorption! Not only is our hempseed oil pure, but it is GMP-certified and GMO-free to give you peace of mind when using our product!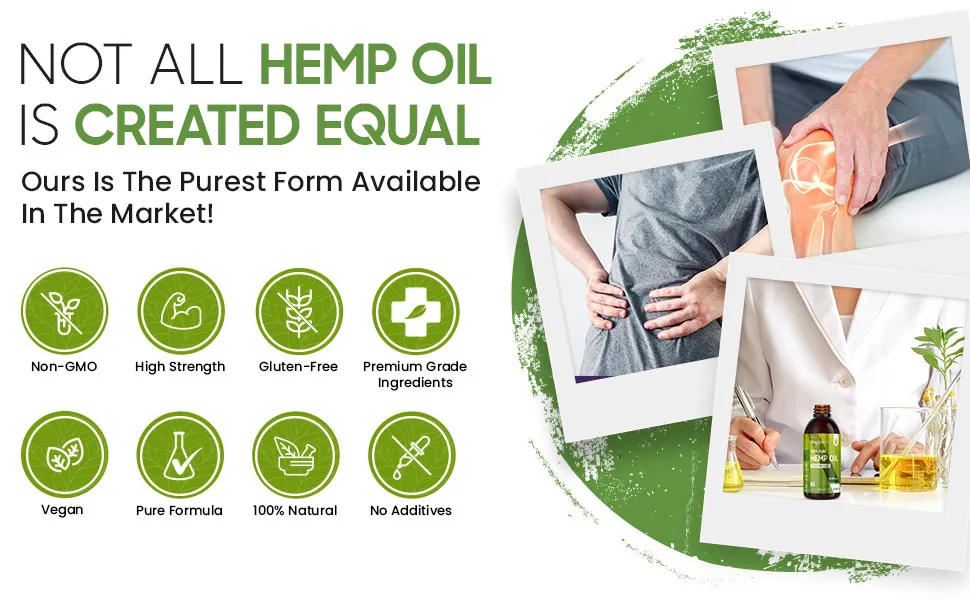 Instructions
This supplement is highly concentrated, and as such, you don't need to take a huge amount of it to receive the body benefits. Shake well before use. Place 1ml oil under the tongue 2 times per day. Leave the oil in the mouth for one minute before swallowing. We do not recommend consuming any more than 10 drops per day.
This product is not designed to replace a varied and balanced diet. Do not exceed the stated dose. If you are pregnant, breastfeeding or taking any medication, please consult your doctor before use. Store in a cool, dry place. Keep out of reach of children.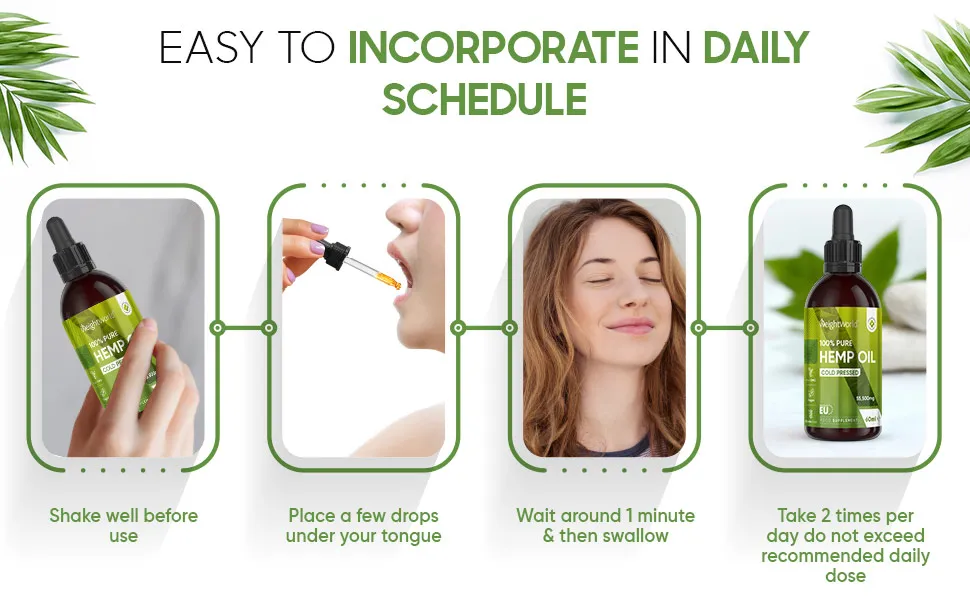 Why are drops better than capsules?
Our HempSeed Oil comes in a concentrated drop form because supplementing with drops allows for among the fastest delivery methods in the food supplement world, with the incredibly powerful liquid being quickly taken in and used by your body. Drops are also great for use on the go due to the speed at which you can take them, and unlike tablets and capsules, you don't require any water or a similar beverage to wash them down.
What can hempseed oil do for you?
HempSeed oil is ideal as a vegan source of omega 3, 6 and 9 which means it is perfect to support your brain, joints and skin! Not only is hemp oil great for the inside, but if applied to your skin, it is also brilliant to help rejuvenate and tackle outbreaks and blemishes.
Does hempseed oil has multiple uses?
Yes! HempSeed oil is great for a lot of things from your brain to your skin! Historically hempseed oil has also been amazing for muscle tension and joint mobility!
What medications should not be taken with HempSeed oil?
Our hempseed oil is all-natural, but we advise that, if you are on other medication on a regular basis, you check with your doctor to ensure that there are no negative interactions with your current medication.
Can We use HempSeed oil for Oral Or Topical Application or both?
With our hempseed oil, you can take it both orally and apply it topically! If you ingest it, it is ideal for the amazing benefits of omega 3, 6 and 9 for your brain and joints. For topical application, it is amazing for muscle relief, post-workout recovery and your skin!
What Are the Side-Effects of hempseed oil?
We pride ourselves on using all-natural ingredients in our products which means there are no known negative side effects and you can have peace of mind when using them. That being said, this does not apply to specific allergies you may have.
What if it doesn't work for me?
We are confident that you will love our products, but we also understand that everybody is slightly different and may not feel the effects in the same way. We value our customers and want to make sure that they are 100% happy with their purchase which is why we offer our full money-back guarantee! If it doesn't work for you, we will refund you for your order!
Frequently bought together

Hemp Oil
60 ml Oil | Multi-wellness Hemp Extract
£14.99
+

Customer Reviews
At WeightWorld we strive to offer the best possible customer service and we take great pride in the feedback we have received from our customers. All testimonials and reviews below are the experiences and opinions of WeightWorld customers. They should not be considered as health, medical or medicinal claims. They are no substitute for taking medical advice.
Outstanding

4.5
91.86% based on 203 Verified reviews

* Results may vary from one person to another.