All-Natural Supplements
GMP-certified and GMO-Free
Free UK delivery on orders over £30
Save on postage today
100% Customer Satisfaction
We offer a full 90-day money back guarantee
Hemp Seed Oil Softgels
1000 mg 180 Softgels | 100% Cold Pressed Hemp Seed Oil
Buy 1

£14.99

£0.08 / Softgel

Buy 2

£26.98

£29.98 You Save 10%

£0.07 / Softgel

Buy 3

£35.97

£44.97 You Save 20%

£0.07 / Softgel

Buy now and earn 1 WeightWorld Points ?
Key Features
Promotes natural vitality and well-being
Ideal to support joint mobility, aches and pains
Perfect for muscles and post-exercise recovery
Rich in Omega 3, 6 & 9, essential fatty acids and Vitamin E
Perfect for the heart and eyes
Rejuvenates and moisturises the skin
Softgels for maximum absorption
Brilliant alternative to fish oils with same benefits without the odour
Money Back Guarantee
Gluten-free
Lactose Free
Expert Formula
What Are The WeightWorld Hemp Seed Oil Softgels?
These premium hemp seed oil softgels are a natural and safe supplement for those looking to make use of the amazing hemp plant. Containing a potent 1000mg strength in each maximum absorption softgel, this hemp supplement is great for those looking to boost their overall well-being on a daily basis. Plus, in the form of a softgel, they are easier for the body to process, making them superior to regular capsules or tablets. What's more, with a massive 180 capsules in each bottle, this unique hemp supplement will last you 6 months of use!
What are the benefits of Hemp Seed Oil?
As hemp plant oil is rich in fatty acids Omega 3, 6 and 9 as well as vitamins and minerals, there are many hemp seed oil benefits. Traditionally, hemp has been used by those looking to naturally boost their natural defences and it is also used as a stomach-friendly tonic.
Amazing for joint mobility
Rich source of omega 3, 6 and 9
Ideal for the brain
Great to rejuvenate the skin
Supports a good nights sleep
Why choose WeightWorld's Hemp Seed Oil Softgels
Our softgels are not only naturally sourced like all of our other products, but they are also filled with 1000 mg of cold-pressed hemp seed oil, to provide your body with the optimal amount of oil to help you tackle your day. It is highly bioavailable and the softgels are great for fast absorption. Our softgels are also GMO-free and GMP-certified!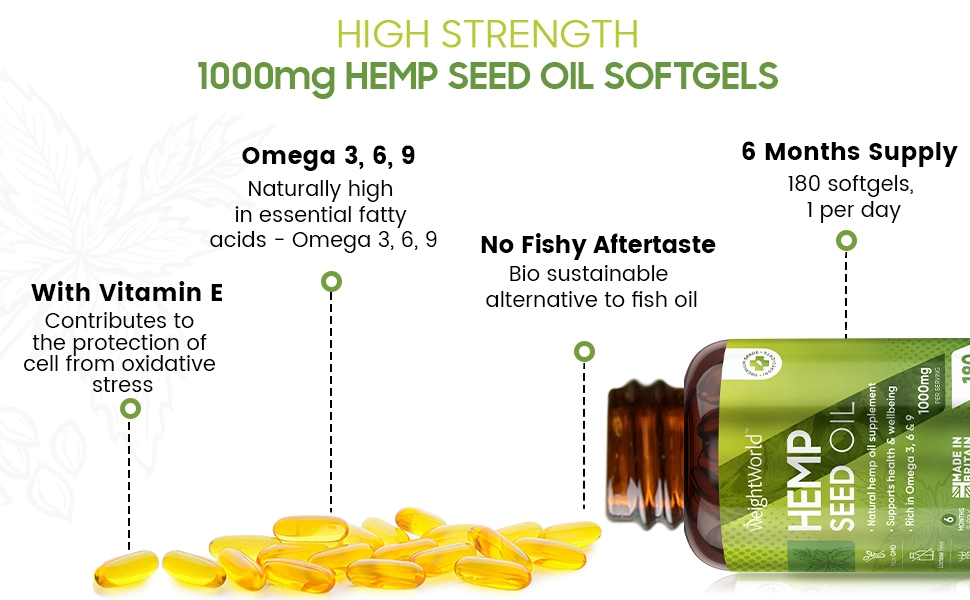 Directions
To use these hemp seed oil softgels, simply take 1 daily with a meal. It is up to you which meal, but we suggest taking it at the same time each day for consistency. Each bottle contains 180 capsules, so enough for 180 days of use. It is recommended to use on an ongoing basis, which is why we offer many multipack discounts.
Advice
This product is not designed to replace a varied and balanced diet. Do not exceed stated dose. If you are pregnant, breastfeeding or taking any medication, please consult your doctor before use. Store in a cool, dry place. Keep out of reach of children.
What can hemp oil softgels do for you?
Our Hemp Oil Softgels are great to help you give your body the support it deserves to rejuvenate and take on the day with confidence.
Are capsules better than oil?
There are many benefits to taking our softgel capsules! Our softgel capsules are highly bioavailable which means they are quick for the body to absorb. Our capsules are also portable and easy to take on the go with no flavour!
What medications should not be taken with Hemp oil?
Our hemp oil softgels are all-natural, but we advise that, if you are on other medication on a regular basis, you check with your doctor to ensure that there are no negative interactions with your current medication.
Are there any side effects?
We pride ourselves on using all-natural ingredients in our products which means there are no known negative side effects and you can have peace of mind when using them. That being said, this does not apply to specific allergies you may have.
What if it doesn't work for me?
We are confident that you will love our products, but we also understand that everybody is slightly different and may not feel the effects in the same way. We value our customers and want to make sure that they are 100% happy with their purchase which is why we offer our full money-back guarantee! If it doesn't work for you, we will refund you for your order!
Frequently bought together

+

Hemp Oil
60 ml Oil | Multi-wellness Hemp Extract
£14.99
+

Customer Reviews
At WeightWorld we strive to offer the best possible customer service and we take great pride in the feedback we have received from our customers. All testimonials and reviews below are the experiences and opinions of WeightWorld customers. They should not be considered as health, medical or medicinal claims. They are no substitute for taking medical advice.
Outstanding

4.5
93.46% based on 155 Verified reviews

* Results may vary from one person to another.