Our price match promise
We will beat or match other retailers
Free UK delivery on orders over £40
Save on postage today
Customer Data Protection
Your data is safe and secure with us
Liposomal Vitamin C
Advanced Immune System Formula
Overview
Liposomal Vitamin C by WeightWorld is a premium liquid supplement which is specially formulated to contribute to the normal function of the immune system. With a potent delivery of 1000mg of Vitamin C per serving, it also contributes to the protection of cells from oxidative stress. Plus, using a unique liposomal delivery method, it ensures optimal absorption of our powerful Vitamin C supplement for max results!
Advanced formula for the immune system
Contributes to normal energy-yielding metabolism
Potent 1000mg per serving
Recommended the daily amount of Vitamin C
Highest bioavailability
Vegan
Gluten-free
Lactose Free
GMO Free
Product that you are looking for is no longer available, please select from an alternative below.
What is WeightWorld Liposomal Vitamin C?
When it comes to Vitamin C supplements, what can really make the difference between them is their bioavailability. WeightWorld Liposomal Vitamin C serves as the perfect solution due to its scientifically proven liposomal delivery method which ensures the nutrient is delivered directly to cells within minutes. We also use premium quality ingredients and an immaculate formulation to ensure maximum effectiveness and purity.
What is it for?
WeightWorld Liposomal Vitamin C is ideal for those looking for a high-dose Vitamin C supplement with superior bioavailability. Vitamin C is also essential for vital bodily functions and all-round wellness and vitality. Our product contains millions of nano-sized spheres called "liposomes" that deliver the nutrients directly into the cells so you can reap the maximum benefits of Vitamin C which include:
Normal collagen formation
Protection of cells from oxidative stress
Maintenance of the normal function of the immune system
Reduction of tiredness and fatigue
Normal functioning of energy-yielding metabolism
Normal functioning of gums, skin, teeth, bones and cartilage
Who should use WeightWorld Liposomal Vitamin C?
Ordinary Vitamin C supplements are not efficiently processed and absorbed by the body. Our Liposomal Vitamin C liquid supplement, however, is popular amongst those looking to reap the benefits of a high dose of Vitamin C. It is also highly bioavailable which makes it a preferred choice in the market. What's more, this easy-to-take liquid supplement is perfect for people with a hectic schedule and for those who are looking for a quick and effortless method to boost their wellbeing.
How to use?
Take one 5ml dose daily. You can take it directly into the mouth or mix it into a glass of water or juice. Always read the entire list of ingredients to avoid any personal allergens. WeightWorld Liposomal Vitamin C is FREE from: GMO, corn, gluten, rice, yeast and dairy products. It is halal and kosher certified, suitable for vegans, vegetarians and has no known side effects.
Ingredients list
Water, Firming Agent (Glycerol), Vitamin C (Sodium L-Ascorbate, L-Ascorbic Acid), Emulsifier (Sunflower Lecithins), Sweetener (Maltitol Syrup), Vitamin E (DL-Alpha Tocopheryl Acetate), thickener (Xanthan Gum)
Frequently bought together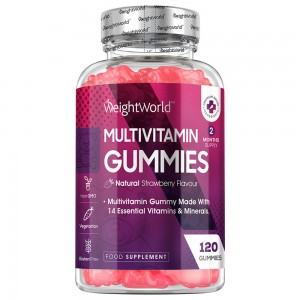 +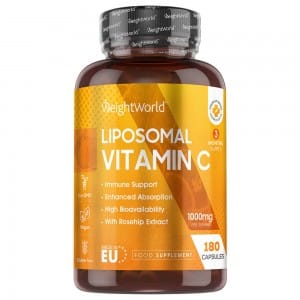 Customer Reviews
At WeightWorld we strive to offer the best possible customer service and we take great pride in the feedback we have received from our customers. All testimonials and reviews below are the experiences and opinions of WeightWorld customers. They should not be considered as health, medical or medicinal claims. They are no substitute for taking medical advice.
Outstanding

4.5
90.61% based on 97 Verified reviews

* Results may vary from one person to another.