All-Natural Supplements
GMP-certified and GMO-Free
Free UK delivery on orders over £30
Save on postage today
100% Customer Satisfaction
We offer a full 90-day money back guarantee
Magnesium Gummies
125 mg 90 Gummies | Natural Grape Flavour
Buy 1

£14.99

£15.99

£0.17 / Gummy

Buy 2

£26.98

£29.98 You Save 10%

£0.15 / Gummy

Buy 3

£35.97

£44.97 You Save 20%

£0.13 / Gummy

Buy now and earn 1 WeightWorld Points ?
Key Features
High strength magnesium supplement for adults & kids (5yrs+)
Ideal for muscle aches & recovery
Helps nutrient absorption of calcium & supports bones
Perfect to help calm and relax before bed
Easy to take, chewable, grape-flavoured gummies
Free from artificial colours, flavours & sweeteners
Trusted Brand in Europe & UK Since 2006
Money Back Guarantee
Vegan
Dairy-free
Gluten-free
What are Magnesium Gummies for Kids & Adults?
Magnesium citrate is an active ingredient that is perfect for people who want to promote muscle relaxation while taking care of their heart and bones. Magnesium is ideal for fatigue and exhaustion in the body. It is also brilliant to help calm, relax and focus to give you some peace of mind during the day or before bed! That's why WeightWorld brings you Magnesium Gummies for kids & adults, a chewable and tasty alternative to magnesium tablets. Offering 125mg strength per serving, our potent magnesium gummy is formulated with highly bioavailable magnesium citrate, making sure it is easily absorbed by your body.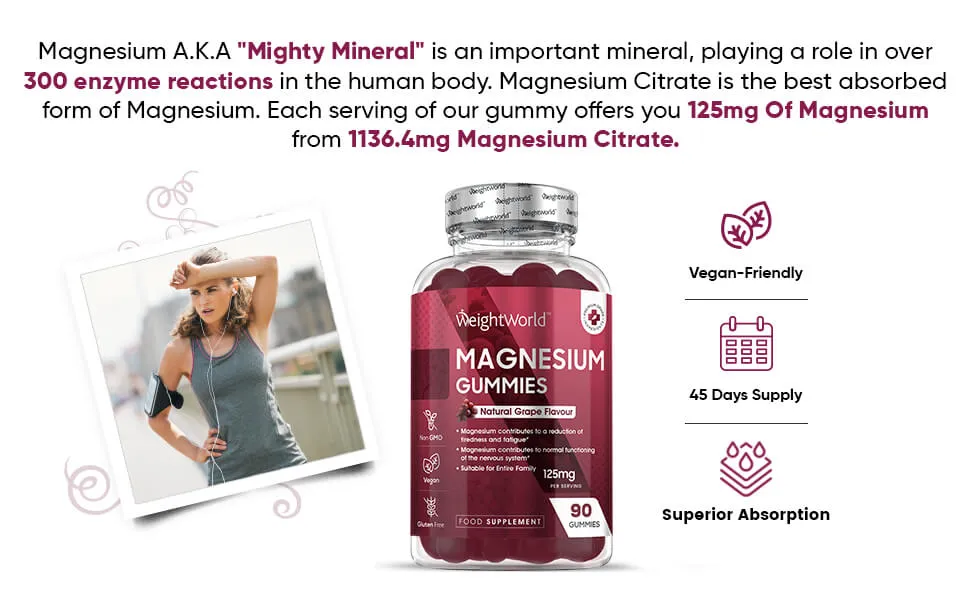 What are the Benefits of Magnesium Gummies?
Our Magnesium Gummies for kids & adults provide all the fantastic health benefits that magnesium has to offer. According to EFSA, Magnesium contributes to:
tackling tiredness and fatigue
Normal energy-yielding metabolism
Normal functioning of the nervous system
Normal muscle function
Normal protein synthesis
Normal psychological function
Maintenance of normal bones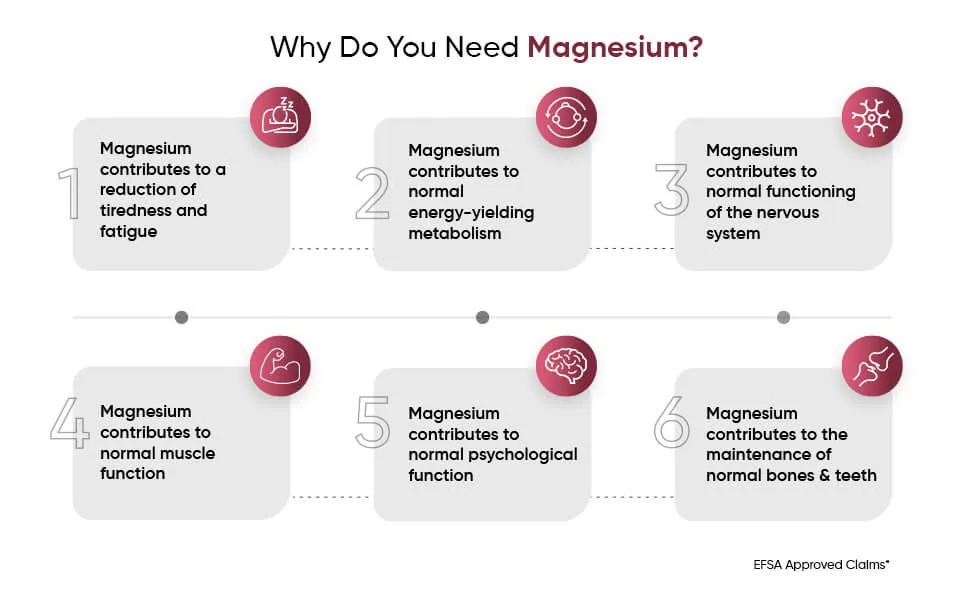 Why Choose WeightWorld's Magnesium Gummies?
Here's why our Magnesium Gummies are the right pick for you!
Formulated with 18+ years of industry experience in making 200+ health supplements and devices
Provides 125 mg of magnesium citrate, offering higher bioavailability than magnesium glycinate gummies
Comes in fruity natural grape flavour to make your magnesium dose fun and tasty, unlike bland magnesium tablets or capsules
100% natural and free from GMOs, ensuring you enjoy the benefits without facing any known side effects
Simply chew 2 gummies a day - no more hassle of swallowing large tablets that get stuck in the throat
Our magnesium gummy is vegan, dairy-free and gluten-free, perfectly suitable for people with varying dietary choices
We offer you 90-day money-back guarantee so you can try the gummies risk-free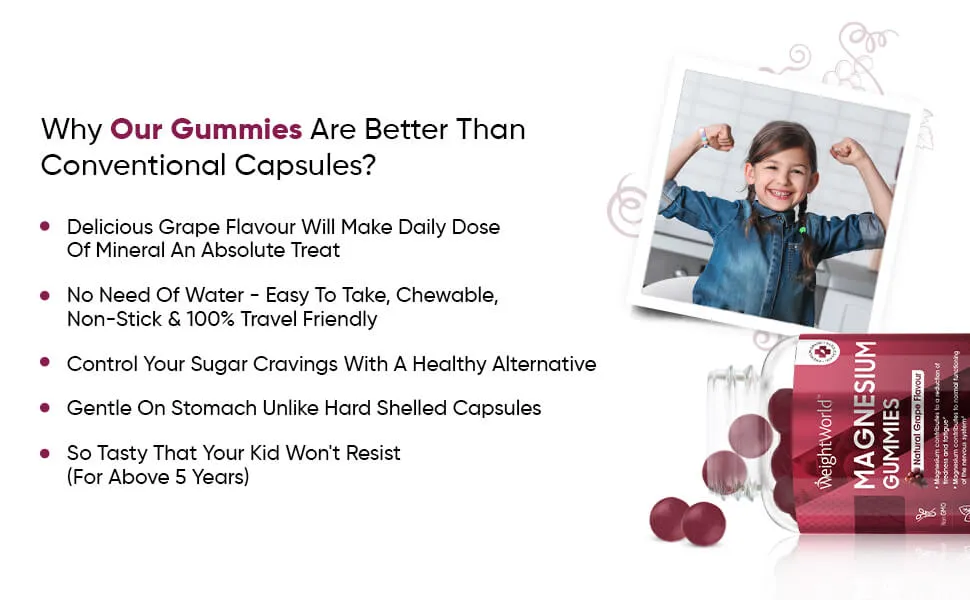 How To Use Magnesium Gummies
Chew 2 Magnesium Gummies a day..
Precautions for use
Magnesium Gummies should be chewed and not swallowed whole. Do not exceed the recommended daily dose. Do not give this to children under 5 years. Food supplements must not be used as a substitute for a varied and balanced diet and a healthy lifestyle. If you are pregnant, breastfeeding, taking any medications, or are under medical supervision, please consult a doctor or healthcare professional before use. Discontinue use and consult a doctor if any adverse reactions occur.
Full Ingredients of Magnesium Gummies
Magnesium (as Magnesium Citrate), Sweetening Agents: Sugar, Glucose Syrup, Dextrose, and Steviol Glycoside, Gelling Agents: Glycerin and Pectin, Acidity Regulators: Citric Acid and Sodium Citrate, Glazing Agent: (Vegetable Oil [Contains Carnauba Wax]), Flavouring Agent: Natural Grape Flavour, Coloring Agent: Purple Carrot Juice Concentrate.
Why should I take Magnesium Gummies for adults and kids?
Our Magnesium Gummies are a tasty grape flavoured alternative to boring tablets and capsules! Magnesium is ideal to help you calm your mind before bed as well as focus and fight fatigue during the day!
Which one is better - magnesium citrate gummies or magnesium glycinate gummies?
Magnesium citrate gummies are often preferred over magnesium glycinate gummies UK because they are more bioavailable, which means magnesium citrate can be more easily absorbed by your body, ensuring impactful results.
Are there any side effects of these Magnesium Gummies UK?
We pride ourselves on using all-natural ingredients in our products which means there are no known negative side effects and you can have peace of mind when using them.
Are these magnesium gummies for adults only?
Our Magnesium gummies are both both adults and kifs above the age of 5 years.
What if these Magnesium Gummies UK don't work for me?
We pride ourselves on using all-natural ingredients in our products which means there are no known negative side effects and you can have peace of mind when using them.
Frequently bought together

+

+

Customer Reviews
At WeightWorld we strive to offer the best possible customer service and we take great pride in the feedback we have received from our customers. All testimonials and reviews below are the experiences and opinions of WeightWorld customers. They should not be considered as health, medical or medicinal claims. They are no substitute for taking medical advice.
Outstanding

5
94.70% based on 82 Verified reviews

* Results may vary from one person to another.