All-Natural Supplements
GMP-certified and GMO-Free
Free UK delivery on orders over £30
Save on postage today
100% Customer Satisfaction
We offer a full 90-day money back guarantee
Multivitamin Gummies
120 Gummies | Multivitamin & Mineral Chews
Buy 1

£15.99

£0.13 / Gummy

Buy 2

£28.78

£31.98 You Save 10%

£0.12 / Gummy

Buy 3

£38.37

£47.97 You Save 20%

£0.11 / Gummy

Buy now and earn 2 WeightWorld Points ?
Key Features
13 essential vitamins & minerals
Strawberry-flavoured, low-sugar gummies
With Vitamin C, A, D, B, Biotin & Zinc
2 months' supply of gummy vitamins for adults
Benefits
Ideal for all-round complete bodily support
Contributes to normal collagen formation
Supports bones, teeth, hair, skin & nails
Bolsters your natural defences
Contributes to the reduction of tiredness & fatigue
Money Back Guarantee
Gluten-free
Vegetarian
Expert Formula
What Are WeightWorld's Adult Multivitamin Gummies?
People often have a hard time swallowing tablets. Additionally, their unpleasant taste can make it all the more challenging even for the most diligent swallowers of nutrition supplements. To help people supplement their fast-paced lifestyle with much-needed nutrition, WeightWorld created vitamin gummies for adults that are easy to take!
The formulation of these vitamin gummies is meticulously created to contain Vitamins A, B, C, D & E along with Biotin, Folic acid, Zinc, Iodine, Choline and Inositol so you don't need to take different supplements. Suitable for adults and the elderly, you can stock up on these chewable multivitamin gummies for the entire family and support everyone's well-being and vitality.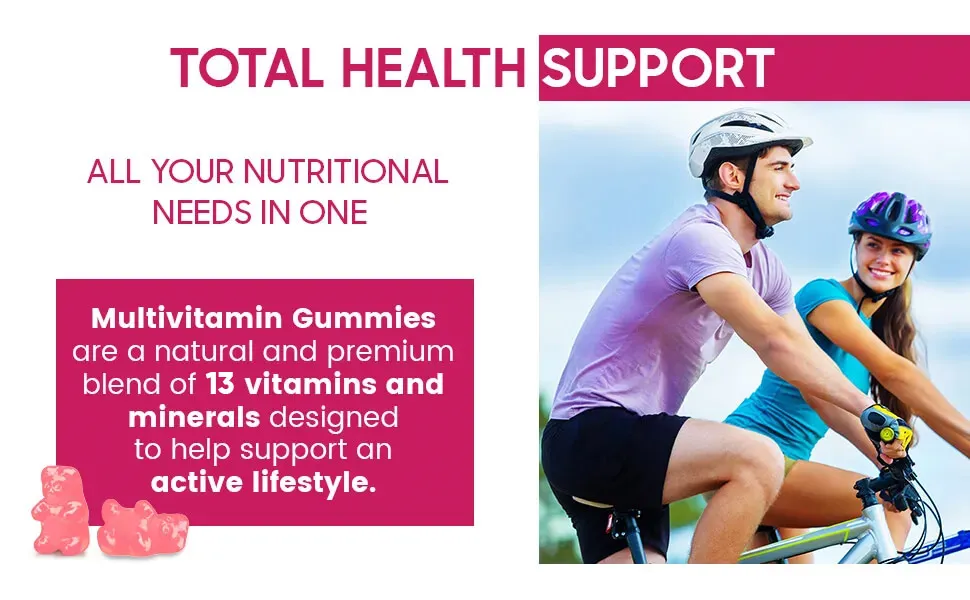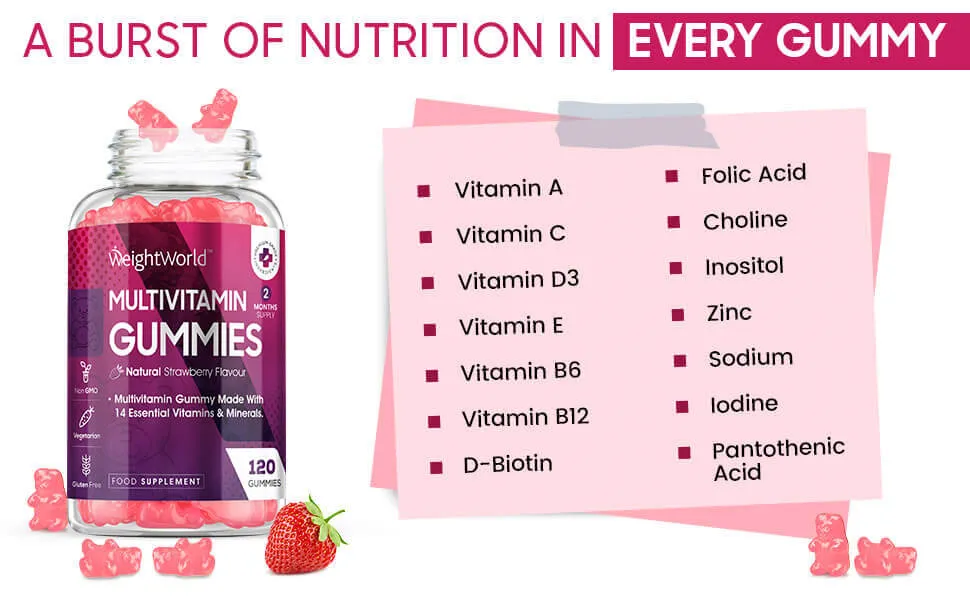 How Our Vitamin Gummies for Adults Benefit Your Body?
A demanding work life, extra hours, unhealthy eating habits, ageing and an always-on-the-go lifestyle make it challenging to keep up with the nutrition levels your body needs. So, after an in-depth study, WeightWorld developed a powerful blend of key vitamins and minerals in the form of these tasty adult Multivitamin Gummies to help you reach your full potential!
Vitamin A - Contributes to the maintenance of normal vision & skin
Vitamins from group B (Vitamin B6, Vitamin B12, Vitamin B5) – Support your normal energy-yielding metabolism and nervous system
Vitamin C - essential for the regular functioning of your immune function and collagen formation. It also supports your energy levels and increases iron absorption
Vitamin D3 - contributes to normal utilisation of calcium and phosphorus and supports your bones, teeth and muscle function
Vitamin E – plays a role in the protection of cells from oxidative stress
Folic Acid - Supports heart health by contributing to the normal functioning of the arteries
Biotin - Is essential for supporting your skin, hair, eyes and nervous system
Zinc - Supports a healthy gastric environment along with the natural defences and healthy ecology of the gastric lining
Iodine - used by the thyroid gland which helps control the growth and repair of damaged cells and it is also important for normal visual function and eye moisture
Choline - essential for memory and cognition
Inositol - has a role to play in the maintenance of blood pressure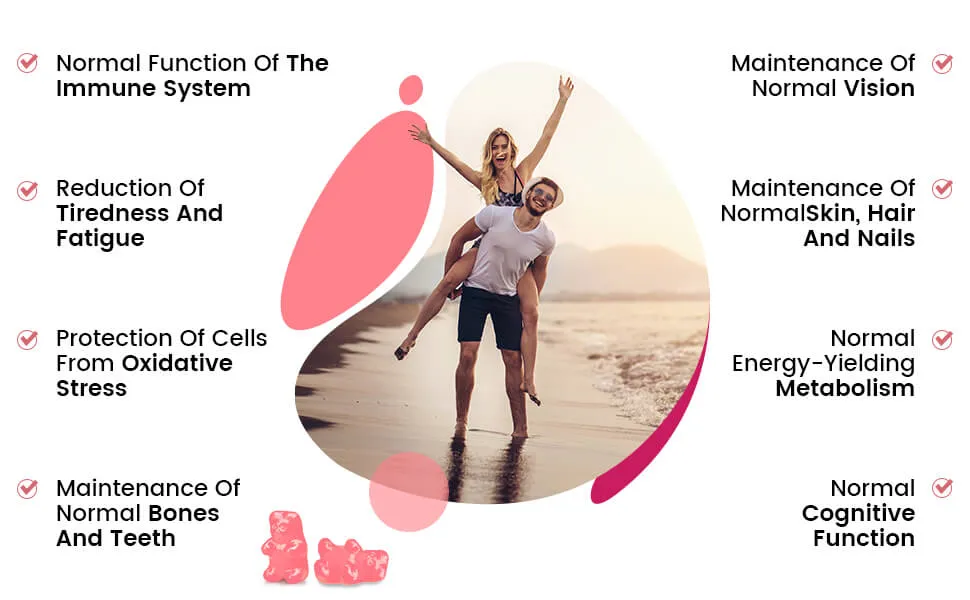 What's Great About Our Chewable Multivitamin Gummies?
While there are quite a few multivitamin supplements on the market, here's why our Multivitamin Gummies for women and men make a better choice than multivitamin tablets or capsules.
More Delicious
No more cringing at the taste of tablets! These yummy strawberry-flavoured gummy vitamins for adults taste great and make a fun addition to your balanced diet. Not to mention, they are a healthy alternative to the sugary treats you have when you're hit with a sudden craving for something sweet after a meal.
More Convenient
No stress of swallowing with water or struggling with fussy eaters to ensure they take their supplements. These adult Multivitamin Gummies are something that every age and gender will enjoy!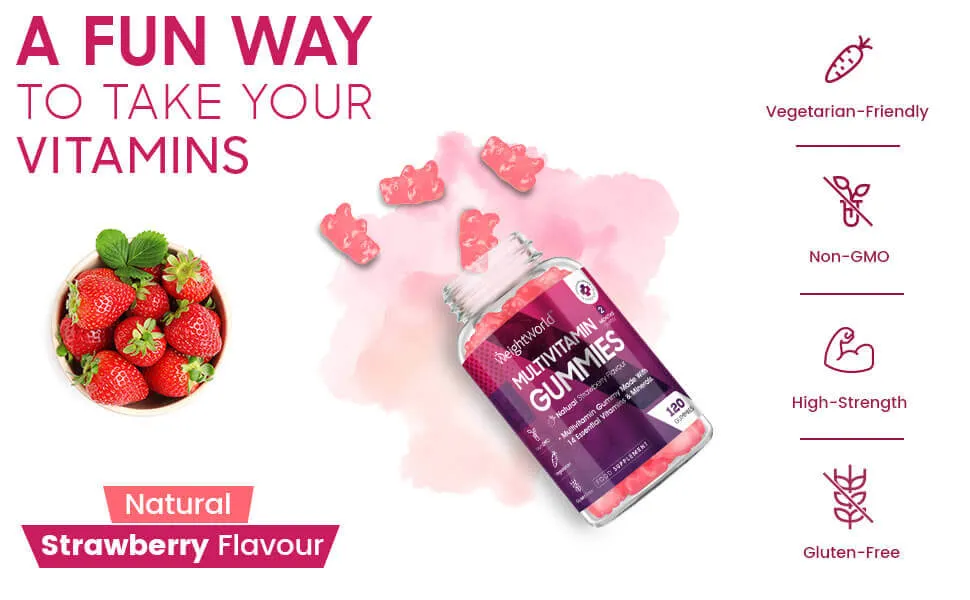 Safe Choice
While gummies are mostly filled with high amounts of sugar, our gummy multivitamin supplement is low in sugar. These gummies are also lab-tested and formulated with all-natural ingredients, making sure you face no known negative side effects while enjoying their benefits.
Guaranteed Satisfaction
Our chewable multivitamins come with a 90-day money-back guarantee to let you try the supplements risk-free and enjoy a 100% satisfaction guarantee.
How To Use Chewable Multivitamin Gummies
To make the most of these multivitamin gummies, simply chew 2 daily. Do not swallow these gummies and chew each one to get maximum benefits. If you are pregnant or breastfeeding, please consult a medical professional. Check the complete list of ingredients to ensure you are not allergic to any of them. These multivitamin gummies for adults are not intended for children under the age of 5 years.
What are the benefits of Multivitamins Gummies?
Our Multivitamin Gummies are packed with 13 essential vitamins and minerals that work in tandem to support your energy, inner defences, bones, teeth, hair, skin, muscles, nerves, heart and more.
Who are these Multivitamin Gummies for?
Our gummy multivitamin supplement is perfect for any adult who wants to revitalise their body vitality and give the support their body and organs need to perform at their best.
Who can't take these Multivitamin Gummies?
These Multivitamins Gummies are not intended for children above the age of 18 years. We offer separate Multivitamin Gummies for Kids that your little ones can enjoy and reap benefits from.
Why are multivitamin gummies for adults better than tablets?
A quick look at our reviews will show you how much our customers love our gummies! At the end of the day, it is a personal preference, but if you want to turn the chore of taking tablets into a treat, then our multivitamin gummies are for you!
Are there any side effects of these vitamin gummies for adults?
We pride ourselves on using all-natural ingredients in our products which means there are no known negative side effects of these vegetarian multivitamin gummies and you can have peace of mind when using them.
Should I take these gummy vitamins for adults in the morning or night?
You can take our Multivitamin Gummies at any time of the day, twice daily. Having said that, we recommend taking the multivitamin supplement at the same time each day to enjoy optimal results.
What if these multivitamin gummies for women and men don't work for me?
We are confident that you will love our products, but we also understand that everybody is slightly different and may not feel the effects in the same way. We value our customers and want to make sure that they are 100% happy with their purchase which is why we offer our full money-back guarantee! If it doesn't work for you, we will refund you for your order!
Frequently bought together

+

+

Customer Reviews
At WeightWorld we strive to offer the best possible customer service and we take great pride in the feedback we have received from our customers. All testimonials and reviews below are the experiences and opinions of WeightWorld customers. They should not be considered as health, medical or medicinal claims. They are no substitute for taking medical advice.
Outstanding

5
94.75% based on 216 Verified reviews

* Results may vary from one person to another.