How Does Cellulite Occur?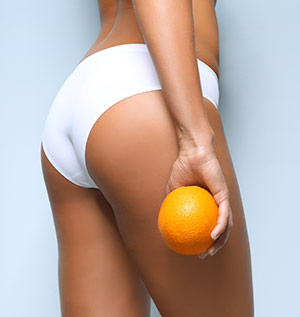 Cellulite is a condition where fat cells collect under the skin give it a dimpled appearance, which can be embarrassing for many men and women who experience. Once Cellulite appears, you may feel tenderness, or tightness in these areas. While weight gain can make Cellulite more noticeable, Cellulite is in no way related to obesity. It affects people of all shapes and sizes.
There are a variety of factors which influence the appearance of Cellulite. The first responsible factor is the female hormone, oestrogen. This female hormone stimulates the storage of fats in the areas of the body mentioned above, and is all the more favourable for the formation of Cellulite at important stages of women's life in particular life. Puberty, pregnancy and menopause are thus fertile grounds for Cellulite, as the oestrogen production in your body is increased.
Other underlying factors include smoking, stress, obesity, lack of exercise, poor diet, rough harsh massages, fabrics and genetics to name a few. While Cellulite may be stubborn, you can reduce the appearance of it with some lifestyle changes, such as exercising, having the right diet and also by using effective home Cellulite treatments.
What Really Works To Get Rid of Cellulite?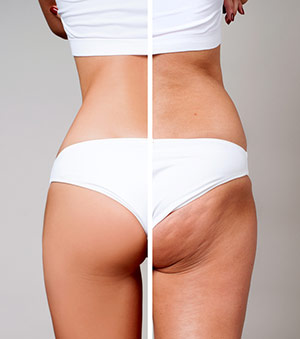 The key to Cellulite reduction is to flush out the accumulated toxins from the body, and prevent its future accumulation. Any steps towards an idealised and healthy lifestyle can help to avoid and reduce the accumulation of cellulite. Before choosing a method, you must pay attention to a few points. Firstly, one must be aware that there are no miracle solutions and besides, it is impossible to totally eliminate cellulite, as it may reappear if you do not follow the right regime.
One can get rid of the cellulite naturally by doing exercises to lose belly fat for men and women, yoga, and by following some home remedies. These tips will not only reduce and prevent the buildup of cellulite, but will also pave the way for a healthy and fit life.
Ways To Get Rid Of Cellulite Naturally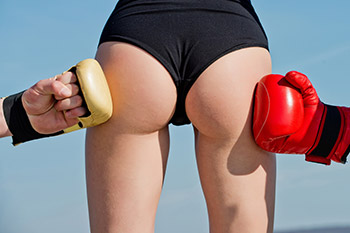 Cellulite is an aesthetic concern for 99% of women. There are numerous ways to fight against stubborn cellulite, and most methods involve the palpating massage technique. Ultimately, there are two essential factors: motivation and regularity. None of the techniques will work if the protocol is not followed regularly. Here are some personal techniques that you can try yourself to get rid of cellulite:
Scrubs
On Instagram, the #coffeescrub hashtag has been used nearly 270,000 times. Since the reputation of caffeine as an anti-cellulite ally is well established, these scrubs are the very popular. A scrub allows for the exfoliation of dead cells and cleanses skin pores for a better penetration of the active ingredients within the skin. Applying your slimming or anti-cellulite cream after that, is beneficial! Body scrubs also have actions in relation to blood circulation. They help to promote the proper functioning of small blood vessels in our body. Better yet, some scrubs with anti-cellulite ingredients can fight against cellulite and orange peel. For getting the most of it, the use of a scrub alongside a slimming or anti-cellulite cream is recommended. Add to that a little exercise and a healthy diet and you can gradually address cellulite.
Patches
These are small adhesive squares that will stick to the skin on the affected area to gradually reduce the appearance of cellulite. Classically, they are used on the glutes and thighs, but they can be also used elsewhere on the body, to help tighten and firm up the skin. Anti-cellulite patches naturally diffuse plant-derived substances that have properties which help you to lose weight and reduce wrinkles. Regular usage of patches also helps prohibit the reformation of cellulite. They not only tackle cellulite formation and accumulated fat but also aid in fading cellulite marks.
Devices
Anti-cellulite devices reproduce the palpate-rolling massage action to help fight cellulite. A few sessions with an anti-cellulite device can make skin feel firmer and taut. The infrared cellulite devices heat up cellulite and massage the subcutaneous tissue to remove toxins and reduce its appearance. Infrared produces heat and stimulates blood circulation to help get rid of adipose tissue. Infrared heat associated with a massage action helps to soften and eliminate fat deposits. Moreover, these home anti-cellulite devices improve the elasticity of the skin because they help to boost collagen production. To fight against the disturbing dimples, it is essential to use anti-cellulite devices on a regular basis over a long period. It is recommended to apply a slimming cream and anti-cellulite scrubs along with this to effectively tackle the appearance of cellulite.
Creams and Gels
Among the popular and most used anti-cellulite techniques are the traditional anti-cellulite creams, combined with a palpate-like massage to enhance the effects of its active ingredients. To boost the effects of the slimming cream, a conscientious massage is recommended. For this, start with the legs; starting from the knee, gently move up to the top of the thigh. Pinch and roll the skin between your fingers to penetrate the cream. At the level of the buttocks and the belly, massage by making broader circles with the palm of your hand.
Supplements
Available in the form of tablets, capsules, pills or herbal teas, some active ingredients are indicated in the treatment of cellulite male and female. These supplements help to push your body to better eliminate water. Thanks to the active presence of natural plants and their active ingredients, they help to fight against fats by limiting their storage and thus promoting their elimination.
Clothing
Comfortable to wear, shapewear or anti-cellulite clothing has a sheathing effect on the belly, hips and thighs. In addition to giving you a better silhouette, it will act on the targeted areas and is discreet to use. The anti-cellulite garment is a great tool, but cannot do all of the work on its own! It must be used for several hours during the day and be accompanied with a healthy diet and exercise. Here's all you need to know about using shapewear for a better silhouette.
Detox Baths
Detox baths are not just relaxing but also help prevent toxin build-up in the skin. They also prevent fat tissues from accumulating beneath the skin, to prevent you from getting cellulite all together. However, when you do have cellulite, detox baths can help to remove the toxins which have already built up in your body. Seaweed and sea salts also work very well for detox baths.
Foods for Cellulite
Eliminate the toxins from its source – this is the key principle that one needs to follow to help get rid of cellulite. This can be achieved by increasing the amount of foods which trigger the formation of alkaline ash in your body. The ideal sources of such foods are raw veggies and fruits. The alkaline nature of these food items attracts the acidic toxins, aiding in flushing out the latter from your body. Nevertheless, take baby steps, when it comes to inclusion of fruits and veggies. A sudden increase in alkaline nature may, in fact, cause adverse effects. The toxins, instead of getting flushed out, can be retained within the body via recirculation and resettling. The higher the quantity of raw food intake, the higher your weight loss will be. And, as you lose weight, your cellulite levels will also reduce.