Our price match promise
We will beat or match other retailers
Free UK delivery on orders over £40
Save on postage today
Customer Data Protection
Your data is safe and secure with us
Pure Collagen
1200 mg 90 Capsules | Natural Skincare Supplement
Overview
Working to help your skin from the inside out, the Pure Collagen capsules are the perfect way to help fight the appearance of cellulite from within. Formulated with only the best, each capsule holds a potent 400mg dosage of Verisol® Bioactive Collagen Peptides, a scientifically studied form of type I and III collagen, and a daily serving of these capsules give you a huge 1200mg. These capsules also contain no fillers, binders or artificial colours and flavourings, so is the ideal natural beauty supplement for all ages.
For the appearance of cellulite
Clinically studied premium supplement
VERISOL® Bioactive Collagen Peptides
Pure hydrolysed type I & III collagen
Powerful 1200mg daily serving strength
No artificial flavourings, fillers or binders
When it comes to dealing with the appearance of cellulite, many turn to collagen to help naturally support the health of their skin. But why turn to messy creams and lotions that just work on the top layer of skin, when you can aid it from the inside? The Pure Collagen capsules work from within the cells to support the natural collagen levels and help leave your skin looking and feeling it's best.
Free Delivery on all UK orders over £40.

Buy now and earn 2 Comfort Points ?
Collagen and cellulite
With around 85% of the female adult population being affected by cellulite, orange peel is a big issue that can happen to any of us, regardless of our weight and size. Most commonly found around the bum and thighs, cellulite occurs when fat deposits push through connective tissue beneath the skin, resulting in it looking and feeling bumpy and dimpled. Although it may not affect your health, it can make a big impact on self-esteem and confidence and so is often a worry and target area for many. This is why collagen is ideal for those with cellulite as it can support the dermal extracellular matrix to help leave it looking smooth and healthy.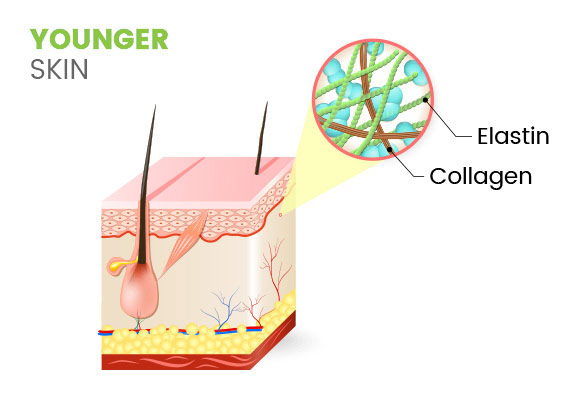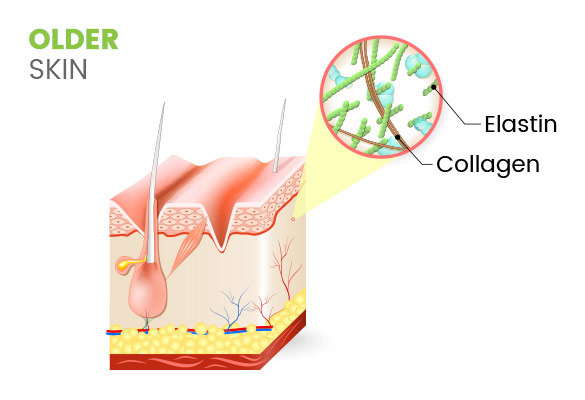 Verisol® collagen
When it comes to collagen supplements, there are so many out there that it can be hard to know which one to choose. Proto-col wanted to make this choice easy by creating a premium natural supplement that uses only the best. To do this, they formulated each and every capsule with Verisol®, a one of a kind blend of pure hydrolysed type I and III collagen. This works for the skin from the inside out to help with the appearance and signs of cellulite and has been seen to be successful in a range of clinical studies.
Supported By Studies
For helping with the appearance of cellulite, a double blind, randomized, placebo controlled study on 105 women aged between 25-50 showed that by taking 2.5g of Verisol® collagen daily significantly decreased the cellulite score after 3 and 6 months. It showed to have a beneficial effect on the skin's extracellular matrix and supported the structure of the dermis and subcutaneous tissue. They also reported it helped reduce the waviness of the skin and that the increase in elastin and collagen was clearly visible. Another study of 69 women aged between 35-55 showed that taking Verisol® for 4 weeks led to a statistically significant higher skin elasticity which was up to 15% more when then compared to the placebo. This was kept persistent after taking for 8 weeks.
Collagen Depletion
A natural protein made up of amino acids, collagen is the internal factors that lead to healthy skin. Did you know, around the age of around 25 years old, our collagen starts to deplete naturally, this is why supplementation will really help you achieve that younger looking appearance, whilst keeping joints healthy. This slowdown is on average 1.5% each year but this deteriorates more quickly as we get older, especially during and after the menopause. Protocol collagen is also manufactured in the UK, making use of the finest quality ingredients which scientists have rigorously tested to support skin health.
Ingredients
Active Ingredient: Verisol® (Collagen Hydrolysate)
Other Ingredient: Gelatin (Bovine Capsule)
Directions for use
Proto-col's Pure Collagen capsules have been specifically designed to be an easy addition to any man or woman's daily routine. Simply take 3 capsules with water each day before going to bed. The dosage can be safely increased to up to six capsules a day if required. With each capsule containing 400mg of pure collagen hydrolysate, with the recommended daily dosage (3 daily) you will receive a powerful daily dose of 1200mg. As each bottle contains 90 capsules, there is enough for 30 servings.
Advice
This natural premium supplement is completely safe to take as it is made with only clinically studied pure collagen hydrolysate. It contains no flavourings, fillers or binders and is additionally free from gluten, lactose and dairy. This supplement is not suitable for vegans and vegetarians. As with taking any new supplement for the first time, please always check the ingredients for any personal allergies. If you are pregnant or have a medical condition consult your doctor before use.
Frequently bought together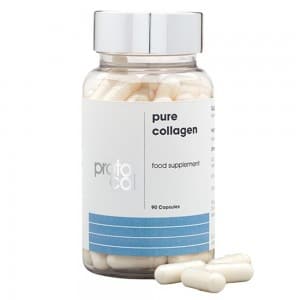 Pure Collagen
1200 mg 90 Capsules | Natural Skincare Supplement
£19.95
+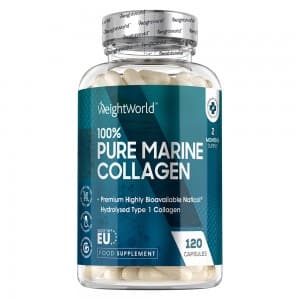 +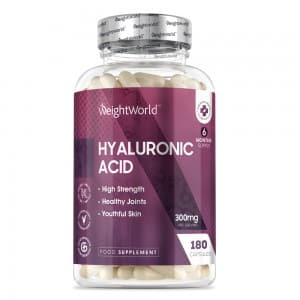 Customer Reviews
At WeightWorld we strive to offer the best possible customer service and we take great pride in the feedback we have received from our customers. All testimonials and reviews below are the experiences and opinions of WeightWorld customers. They should not be considered as health, medical or medicinal claims. They are no substitute for taking medical advice.
Outstanding

5
89.23% based on 12 Verified reviews

* Results may vary from one person to another.