All-Natural Supplements
GMP-certified and GMO-Free
Free UK delivery on orders over £40
Save on postage today
100% Customer Satisfaction
We offer a full 90-day money back guarantee
Acai Smoothie Bowl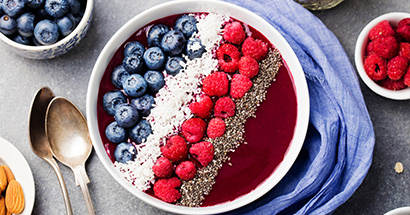 Ingredients:
A handful of frozen Berries of your choice
1 frozen Banana
2 tsp Acai Powder
3-4 Ice Cubes
3 tablespoons Oats
2 teaspoons of Chia Seeds
150ml of Almond or Coconut Milk
1 teaspoon Maple Syrup or Organic Honey
Preparation:
Peel and cut banana in advance.
Add all ingredients to the blender and blend until smooth and fluffy.
Pour into a bowl, and decorate with the healthy toppings you like, such as berries or Chia seeds.