All-Natural Supplements
GMP-certified and GMO-Free
Free UK delivery on orders over £30
Save on postage today
100% Customer Satisfaction
We offer a full 90-day money back guarantee
Chia Seed and Banana Breakfast Loaf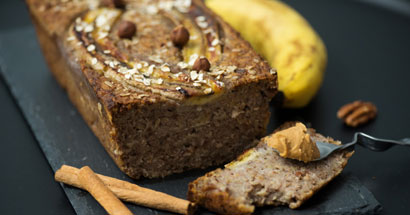 Ingredients:
4 large ripe bananas, mashed
2 eggs
100g dates, finely chopped
3 heaped tbsp yoghurt
50g dried coconut
3 tbsp chia seeds
300g self-raising flour
¼ tsp bicarbonate of soda
2 tbsp milk
1 tbsp vanilla extract
A pinch of cinnamon
You will also need:
A loaf tin.
Baking paper or a bit of margarine for the tin.
Serving Suggestion: Spread a layer of cottage cheese and then sprinkle some raspberries on top for sweet decoration.
Preparation:
Preheat the oven to 180°C.
Line a loaf tin with baking paper, or grease with margarine.
In a large bowl, add the bananas and eggs, one at a time. Whisk well.
Fold in the dates, yoghurt, coconut and chia seeds.
Sieve in the remaining ingredients, except the milk.
Add 2 tbsp milk for a smoother texture. Pour into the loaf tin.
Bake for 30 mins, then cover with foil and continue to bake for 20-30 mins until the loaf is golden.
Tip: Test with a skewer. If it comes out clean when inserted into the centre, you're good to go! If not, bake for another 5 minutes and test again.