All-Natural Supplements
GMP-certified and GMO-Free
Free UK delivery on orders over £40
Save on postage today
100% Customer Satisfaction
We offer a full 90-day money back guarantee
Dried Fruit Bars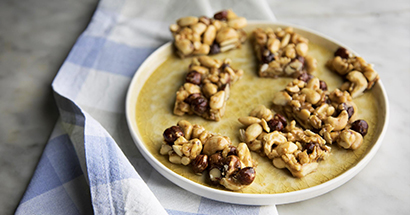 Ingredients:
200g mixed dried fruit
70g honey
35g peanut butter
2 tablespoons of Coconut Oil
Spices to taste (optional, e.g.: cinnamon, nutmeg, ginger)
Preparation:
Toast the dried fruit in a non-stick pan for 30-60 seconds.
In a small saucepan, bring the honey to a boil with peanut butter and Coconut Oil and simmer for 5 minutes adding, if necessary, the chosen spices.
Pour the mixture on toasted nuts and stir quickly.
Put the mixture in a 20x20cm baking tin lined with baking paper and press with a spoon or meat tenderizer to compact the ingredients.
Let it rest in the fridge for at least an hour, then cut it into bars.
If it is hot, store them in the refrigerator for 2 weeks in an airtight container or in the freezer for 3 months.