All-Natural Supplements
GMP-certified and GMO-Free
Free UK delivery on orders over £40
Save on postage today
100% Customer Satisfaction
We offer a full 90-day money back guarantee
Mango-Camu Camu Smoothie Bowl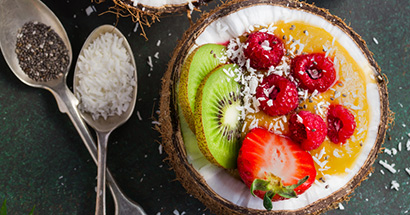 Ingredients:
1 tsp Camu Camu Powder
300ml frozen mango pieces
150ml frozen pineapple pieces
½ banana
150ml of Coconut Milk
1 tablespoon Chia Seeds
Preparation:
Blend all the ingredients until the mixture has a smooth and creamy texture.
Pour it into serving glasses or bowls and garnish with your favourite fruits or berries, chia seeds and coconut flakes.
Tip: Serve the smoothie in half a coconut for added presentation.