All-Natural Supplements
GMP-certified and GMO-Free
Free UK delivery on orders over £40
Save on postage today
100% Customer Satisfaction
We offer a full 90-day money back guarantee
Maca Gluten Free Pancakes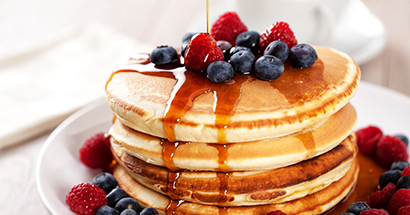 Enjoy these delicious pancakes with Maca, which are also free of gluten and refined sugar.
Ingredients: (1-2 servings)
1/2 cup of buckwheat flour
1/4 cup of almond milk
1/4 cup of yoghurt
2 tablespoons of rice syrup / malt syrup
2 tablespoons of Chia seeds + 3 teaspoon water (or 1 egg)
1 teaspoon Maca powder
Method
Soak chia seeds for about 15 minutes. Mix all the dry ingredients together, add the rest of the ingredients and whisk the mixture well. Preheat a non-stick pan. Pour 2 tablespoons of batter and cook for 2 minutes or until the bottom is golden brown. Turn and cook for another 2 minutes. Repeat until all of the batter has been used.
Topping Suggestions
Mix 1/4 cup of plain yoghurt, 1 teaspoon of rice flour and 1 teaspoon of Acai Berry powder. Pour over the pancakes and enjoy!