All-Natural Supplements
GMP-certified and GMO-Free
Free UK delivery on orders over £40
Save on postage today
100% Customer Satisfaction
We offer a full 90-day money back guarantee
Skinny Coffee
28 Sachets | 28 Day Weight Management Programme
Overview
A unique blend of coffee with superfood ingredients, WeightWorld Skinny Coffee is designed to be a healthy alternative to your regular morning cup. Due to its unique blend of amazing natural components, it is one of the best slimming coffees available with just 10 calories per serving. What's more, with its beneficial ingredient combination and the fact that it is a simple to use instant coffee, it makes managing your weight delicious, simple and enjoyable!
Complete 28-day programme
Healthy substitute for your average cup of coffee
Only 10 calories per serving
Simple sachets for easy use
No senna or laxatives
Vegan
Gluten-free
GMP
Vegetarian
Buy 1

£15.99

£0.57 / Sachet

Buy 2

£30.38

£31.98 You Save 5%

£0.54 / Sachet

Buy 3

£43.17

£47.97 You Save 10%

£0.51 / Sachet

Buy now and earn 2 WeightWorld Points ?
What Is Skinny Coffee?
Our WeightWorld Skinny Coffee is a healthy herbal drink that has been specially developed to support weight management. This unique coffee is made using a hand-picked blend of premium Arabic coffee combined with plant-based superfoods to give you a high-quality option for those looking to lead a healthier lifestyle. Thanks to the amazing elements contained within the coffee, it makes an ideal substitute for your usual morning beverage and best of all doesn't require any extra effort - all you have to do is swap!
How Does Skinny Coffee Work?
It works by being an alternative to regular coffee, so instead of consuming a drink just for the energy boost, you can get so much more. This is thanks to the superfoods you'll find within a skinny coffee that are known to help with weight loss, appetite management and providing you with vitamins and minerals to boost your general health.
Skinny Coffee Ingredients
What exactly is in Skinny Coffee? In addition to selected Arabic coffee beans, each pack is enriched with the best superfoods indicated for weight management and general well-being including: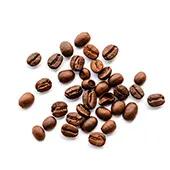 Arabic Coffee Beans
A popular favourite for the morning, the caffeine content found in coffee beans is what is responsible for helping to wake us up and give an energy boost. Not only is it delicious to drink, but it is also great for those looking to manage their weight as it has been studied for its ability to aid those exercising as well as its effects on endurance performance.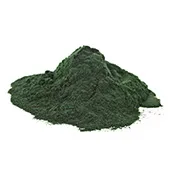 Chlorella
Often referred to as a 'living fossil', Chlorella is a true superfood! It is native to Far Eastern Asia and is actually an amazing algae. Chlorella is a rich vegan protein source that also contains Vitamins A, B, C & E, minerals, amino acids and even fibre. This makes it a natural nutritional powerhouse that is a great beneficial addition to any modern diet.
Complete list - Coffee (Coffea Arabica) Bean Powder, Chlorella (Chlorella Vulgaris) Powder, Green Tea (Camellia Sinensis) Powder, Green Coffee (Coffea Arabica) Extract (10:1), Guarana (Paullinia Cupana) Powder, L-Carnitine, Caffeine, Bulking Agent: Maltodextrin.
Benefits Of Skinny Coffee
There are many benefits you can receive by sticking to our Skinny Coffee diet plan as well as many benefits of drinking on a daily basis, which can include:
Support with weight management
Quick and easy filter coffee
Ideal healthy substitute
Won't disrupt your normal routine
Helps to manage the appetite
Complete 28-day programme
Full of useful nutrients
How To Prepare Skinny Coffee
So now you know the benefits, how do you use skinny coffee? Mix 1 sachet (5g) with 120ml of hot water in your favourite mug (or takeaway mug for those on the go) and stir until the powder has completely dissolved. This skinny drink is an instant coffee which is great for you as it means it is simple, fast and there's no need to waste time filtering - you just have to wait for the kettle to boil! Another benefit we love is that it also means less washing up which is better for both you and the environment!
We also suggest making your coffee black and without sugar - but if you prefer then you can use a milk alternative and a sugar substitute to sweeten. Make sure you don't add too much to yoursthough, as then it won't be a healthy alternative anymore!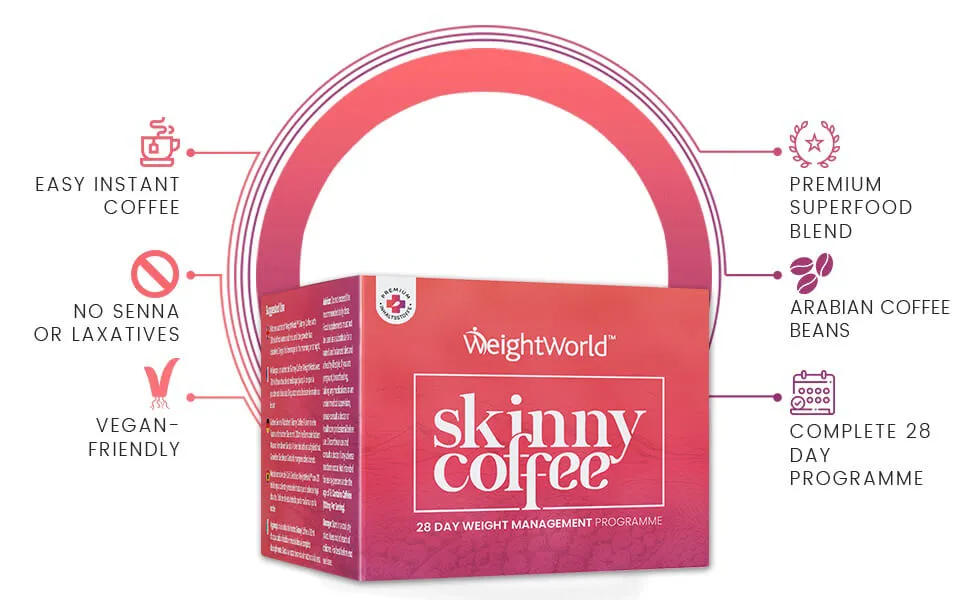 When To Use
To get the best results, simply drink 1 cup of Skinny Coffee in the morning, as you would your usual coffee. It is best to drink it either as you wake up or with breakfast in order to provide you with energy to start the day and to get your body going. Additionally, try to treat it as a 28-day regime,drinking at the same time each day and do not miss days. This coffee programme is designed for a cup every day for 28 days, therefore, we recommend using it daily for at least 28 days but feel free to use it more than that after.
WeightWorld Skinny Coffee Reviews & Results
When it comes to the reviews of our Skinny Coffee, our customers love the benefits it brings them over their usual cup and enjoy using it every day. Many people ask before buying does skinny coffee actually work, and our answer would be yes!
Advice On Using Skinny Coffee
Skinny Coffee is by no means a magical miracle product. When used correctly though it can act as a great accompaniment to your fitness and health routine and lifestyle. For optimum results, accompany your coffee with eating a balanced diet and doing regular exercise.This product is made from organic and natural ingredients and so, therefore, has no known side effects and is safe to use. We recommend checking the ingredients to see if you have any personal allergies before first use. This coffee does not contain any laxatives and should not interact with any other medicines or birth control. This slimming coffee is not suitable for those under 18 or pregnant or breastfeeding mothers.
Does Skinny Coffee really work?
A quick look at our 300+ positive reviews will show you how much our customers have benefitted from our skinny coffee. We have developed our skinny coffee recipe with premium, industry-leading ingredients to give you optimal results.
What is the difference between this and normal coffee?
Our skinny coffee is packed with super foods to help you not only get the energy, but also all of the health benefits from these amazing natural ingredients! Not only that, but one cup also has only 10 calories!
Are there any negative side effects?
We pride ourselves on using all-natural ingredients in our products which means there are no known negative side effects and you can have peace of mind when using them.
What if it doesn't work for me?
We are confident that you will love our products, but we also understand that everybody is slightly different and may not feel the effects in the same way. We value our customers and want to make sure that they are 100% happy with their purchase which is why we offer our full money-back guarantee! If it doesn't work for you, we will refund you for your order!
Frequently bought together
Skinny Coffee
28 Sachets | 28 Day Weight Management Programme
£15.99
+

+

Customer Reviews
At WeightWorld we strive to offer the best possible customer service and we take great pride in the feedback we have received from our customers. All testimonials and reviews below are the experiences and opinions of WeightWorld customers. They should not be considered as health, medical or medicinal claims. They are no substitute for taking medical advice.
Outstanding

4.5
89.85% based on 332 Verified reviews

* Results may vary from one person to another.