Our price match promise
We will beat or match other retailers
Free UK delivery on orders over £35
Save on postage today
Customer Data Protection
Your data is safe and secure with us
Tea Infuser Bottle
500 ml Bottle | Travel Herbal Tea Infuser
Overview
Ever tried taking your herbal tea on the go only to find it's spilt, cold and flavourless? The reusable & eco-friendly Tea Infuser Bottle by WeightWorld allows you to take your favourite blend with you and still maintain the taste, warmth & quality of the infusion. Perfect for work, travel or just using at home, this tea bottle is a must-have for tea lovers everywhere!
High quality thermos bottle
Perfect for both hot and cold drinks
Detachable stainless steel infuser
Double protection against scratches
Easy to clean and dishwasher-proof
Buy 1

£15.99

£21.32
Buy 2

£28.78

£31.98 You Save 10%
Buy 3

£38.37

£47.97 You Save 20%

Buy now and earn 2 Comfort Points ?
What Is The Tea Infuser Bottle?
As the name suggests, the Tea Infuser bottle is a stylish and convenient thermos bottle designed specifically for drinking delicious teas on the go. Thanks to this handy tea bottle, drinking tea when you are out and about has never been easier. Have you ever wanted to take your favourite infusion with you when you leave the house, but find other bottles spill or don't keep your drink warm for long enough? You would normally have to choose between either a tea infuser for great taste or a thermal mug for the perfect temperature, but not anymore.
The Perfect Infusion
Made from double glazed photochromic materials that are also scratch proof, the WeightWorld Tea Infuser Bottle is perfect for maintaining the temperatures of both hot or iced teas and can be used with whatever type you like, be it a tea bag or loose leaves. Never again do you have to precariously carry a mug around or fuss over your infusion; this tea bottle is mess-free and allows you to perfectly make your favourite delicious herbal and fruit teas with ease!
How To Use
First choose the type of tea you would like to make using either a tea bag or loose leaves. Once chosen, for a lighter taste, simply unscrew the lid and add to the filter at the top of the bottle. Add nearly boiling water and leave to infuse. The amount of time for this will depend on the tea used and personal taste preference. Then remove the filter and it's ready to drink. For a stronger taste, place tea leaves directly into the bottle and leave the strainer in place whilst drinking. You can also mix it up a bit and add your favourite fruits and extras to the bottle, such as lemon, honey or strawberries. Top tip - this Tea Infuser Bottle works perfectly with WeightWorld's wide range of teas!
Caring For Your Infuser Bottle
To get the most out of your tea bottle, make sure to look after it! Ensure when using the lid is tightly screwed to avoid accidentally spilling hot drinks and to wash between uses; one of the great things about this bottle is that it's simple to clean and look after. You can either simply hand wash with warm and soapy water or put it in the dishwasher.
Frequently bought together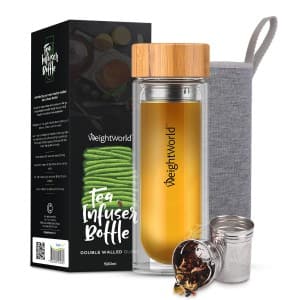 +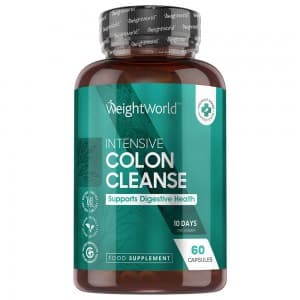 +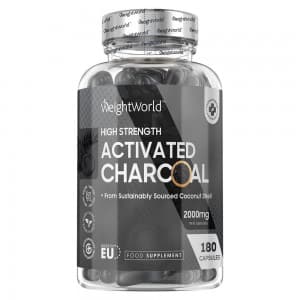 Customer Reviews
At WeightWorld we strive to offer the best possible customer service and we take great pride in the feedback we have received from our customers. All testimonials and reviews below are the experiences and opinions of WeightWorld customers. They should not be considered as health, medical or medicinal claims. They are no substitute for taking medical advice.
Outstanding

4.5
86.67% based on 14 Verified reviews

* Results may vary from one person to another.