Our price match promise
We will beat or match other retailers
Free UK delivery on orders over £40
Save on postage today
Customer Data Protection
Your data is safe and secure with us
Vitamin B12 Chewable Tablets
1000 mcg 400 Chewable Tablets | Natural Lemon Flavour
Overview
Are you feeling run down and want a boost? Our one-a-day chewable Vitamin B12 Tablets have been developed to help you tackle your daily tasks with strength and energy! Bursting with a tasty, natural lemon flavour, our chewable tablets aim to make it easy and enjoyable to get the nutrients you need. The best part? Each bottle comes with 400 tablets, which means it will last you for over a year! For anyone who wants to re-energise, protect and reinforce inner defences, this is perfect for you. Unleash your inner energy today!
Contributes to reduction of tiredness and fatigue
Powerful 1000mcg tablets
Tasty natural lemon flavour
Over 1 year supply (400 tablets)
Vegetarian and Vegan Friendly
GMO and gluten free
Vegan
Gluten-free
Kosher-friendly
GMO Free
Buy 1

£17.99

Buy 2

£32.38

£35.98 You Save 10%
Buy 3

£43.17

£53.97 You Save 20%

Buy now and earn 2 Comfort Points ?
What is Vitamin B12?
Vitamin B12 is an essential nutrient that plays a vital role in a multitude of our bodies' functions. Vitamin B12 can be found in your daily diet, but it's most commonly found in animal products, such as meat, seafood, dairy and eggs, so for vegetarians and vegans, it's very common to have a deficiency due to the lack of natural sources of vitamin B12. The uses of Vitamin B12 have been extensively researched and it has been shown to have a large number of EFSA (European Food Safety Authority) approved benefits, such as:
Contributes to normal energy-yielding metabolism
Contributes to normal functioning of the nervous system
Contributes to normal homocysteine metabolism
Contributes to normal psychological function
Contributes to normal red blood cell formation
Contributes to normal function of immune system
Contributes to reduction of tiredness and fatigue
All of these effects mean that Vitamin B12 is an amazing supplement to help deal with fatigue, tiredness and poor bodily defences, as well as assisting in achieving your weight management goals!
Why WeightWorld Vitamin B12 Chewable Tablets?
We at WeightWorld aim to make looking after yourself an easy and enjoyable experience. Taking pills every morning can feel like a chore or obligation, but we want to show you that it can be a treat too! Our all-natural tasty lemon flavoured chewables provide a sweet little treat with none of the drawbacks or chemicals. Our chewables are sugar-free so that they won't affect any of your weight management goals while providing you with all the benefits of B12. The high strength formula means that you only need one a day to experience the perks of B12, and with 400 tablets in each package, we've got you covered for over a year! WeightWorld's Vitamin B12 Chewable Tablets are also produced in the UK and GMP certified, so you can have peace of mind knowing that our products are safe to use and also naturally and locally sourced.
Who is this for?
Anyone can have a lack of vitamin B12 in their systems. Life can get hectic, which means we don't always have the time to build a varied diet where we can get all of the nutrients we need. Although anyone can reap the benefits of vitamin B12 to give themselves a daily boost, vegetarians and vegans are the most at risk of having a lack of B12 in their systems. Because natural sources of B12 reside mostly in animal products, it is very difficult for vegans and vegetarians to obtain B12 through their daily diet. A lack of vitamin B12 can lead to fatigue, bad moods and poor memory, as well as more serious things such as nerve and fertility issues. Don't let your body suffer and give it the nutrients it needs to take the day by storm!
Key ingredients:
Vitamin B12 (Methylcobalamin):
There are 2 types of Vitamin B12 supplement, cyanocobalamin and methylcobalamin. Both are effective in their own way. The biggest difference is that one is synthetically created and one is naturally sourced. We at WeightWorld value naturally sourced ingredients and believe that natural is best! Our high-strength methylcobalamin B12 supplement has been developed to have 100% purity to ensure our bodies absorb and retain as much as possible to optimise all of the benefits!
Natural Lemon Flavour:
Our delicious chewable vitamin B12 tablets have been infused with a natural lemon flavour to give your day an extra boost! Our natural lemon flavouring is tasty, zesty and sweet, while being completely sugar-free, which means you don't have to worry about negatively affecting your weight management goals.
Advice
Do not exceed the recommended daily dose. Food supplements must not be used as a substitute for a varied and balanced diet and a healthy lifestyle. If you are pregnant, breastfeeding, taking any medications or are under medical supervision, please consult a doctor or healthcare professional before use. Discontinue use and consult a doctor if any adverse reactions occur. Not intended for use by persons under the age of 18.
Full List of Ingredients
Vitamin B12 (Methylcobalamin) 100% Pure, Bulking Agent: Sorbitol, Acidity Regulator: Malic Acid, Flavour: Natural Lemon Flavouring, Anti-Caking Agents: Magnesium Stearate (Veg Source) and Silicon Dioxide (Sipernat 22S)
How to Use
Chew 1 tablet daily, preferably with a meal or as directed by your healthcare practitioner.
Storage
Keep in a cool dry place out of reach of children.
Frequently bought together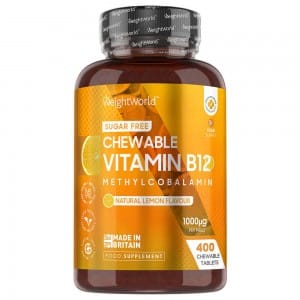 +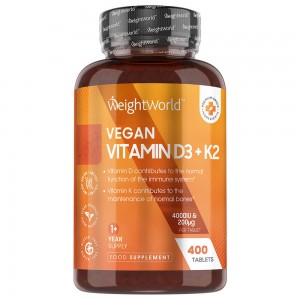 +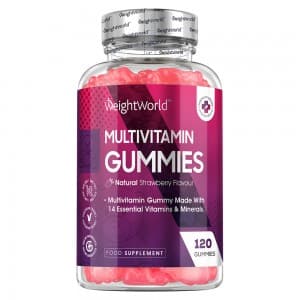 Customer Reviews
At WeightWorld we strive to offer the best possible customer service and we take great pride in the feedback we have received from our customers. All testimonials and reviews below are the experiences and opinions of WeightWorld customers. They should not be considered as health, medical or medicinal claims. They are no substitute for taking medical advice.
Outstanding

5
87.27% based on 10 Verified reviews

* Results may vary from one person to another.