The Connection Between Omega-3s And Heart health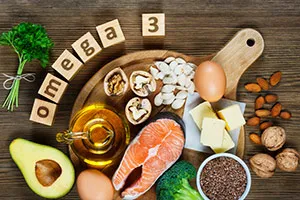 From building brain cells to keeping the heart healthy, Omega-3s are believed to impact every aspect of your overall health. However, the human body does not produce Omega-3 fatty acids on its own. They can only be obtained from omega-3 foods like Tofu, Soybeans, Flax Seeds, Chia Seeds, Walnuts, Canola Oil, Soy Oil, Oysters, Cod Liver Oil, Salmon, Sardines, Shrimp as well as certain fortified foods. Ideally, Omega-3 should make up at least 5% of your total calories.
Omega-3 Benefits For Heart Health
How To Choose The Right Omega-3 Supplements
Here are a few features to look for in your Omega-3 supplement if you want to get the maximum possible benefits:
1000mg of Omega-3 in every serving
A potent combination of EPA and DHA
A GMP certification so you know you are giving the best to your body
Avoid any preservatives and chemicals and if you are a vegan then check if the supplement is made using Algae Oil. Alongside these factors, following a healthy diet and exercise routine is your best bet for a healthy heart!
References