All-Natural Supplements
GMP-certified and GMO-Free
Free UK delivery on orders over £30
Save on postage today
100% Customer Satisfaction
We offer a full 90-day money back guarantee
Exercise Vibration Plate
Oscillating Workout Plate
£99.99
£109.99
You Save £10.00
Free Delivery

Buy now and earn 10 WeightWorld Points ?
Key Features
15 minutes a day is enough for a full body workout at home
Helps with muscle tone and weight loss
Ideal for mobility, flexibility and blood circulation
99 intensity levels, 5 exercise bands included
Built-in Bluetooth speaker
Can be controlled with an included remote control
Comes with a 2-year warranty and 100% money-back guarantee
Money Back Guarantee
CE Certified
What is a vibration plate?
A vibration plate is a unique piece of exercise equipment that can help strengthen core muscles and improve fitness. The device creates vibrations that cause the body's muscles to contract with each vibration. These rapid muscle contractions can help improve balance, posture, flexibility and muscle tone in those who use the machine regularly. In addition, these vibrations can also help with faster recovery after exercise and better circulation throughout the body. Using a vibration plate is a great way to add extra intensity to your workout routine.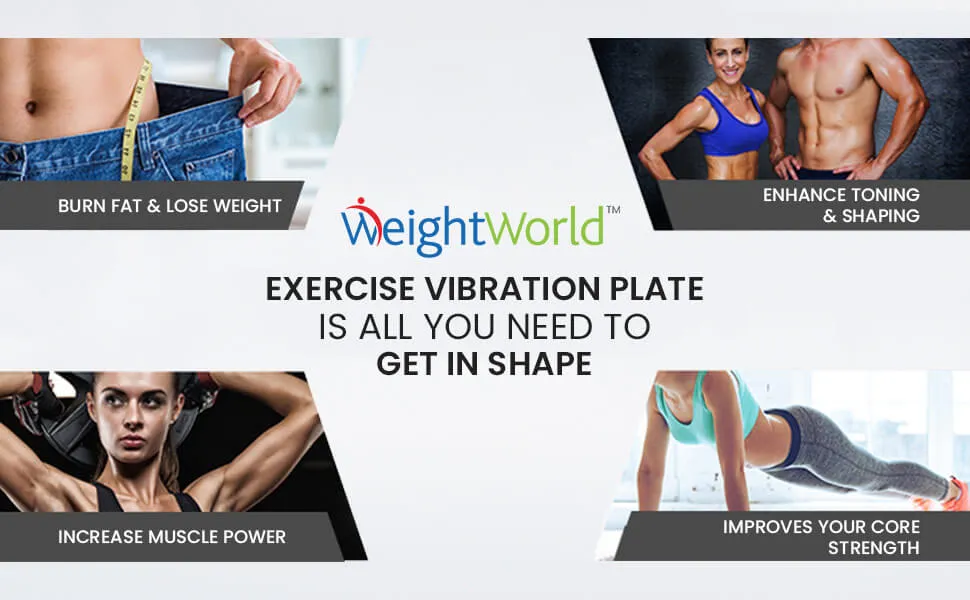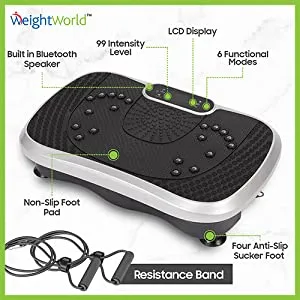 WW Exercise Vibration Plate
Get a full body workout from the comfort of your own home. This advanced plate facilitates a huge variation of poses that work to target individual muscle groups with sophisticated vibration technology that takes aim at fat and muscle.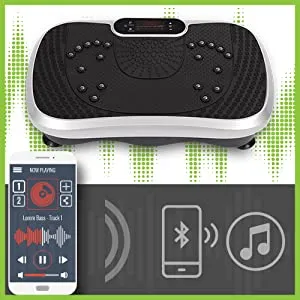 INTEGRATED BLUETOOTH SPEAKERS
Music and exercise go hand in hand, that is why our premium full body workout device comes with a built in Bluetooth speaker. That way you can pump out your favourite tunes whilst pumping your muscles at the same time.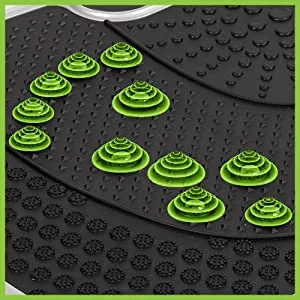 FITNESS + JOINT CARE
The passive nature of the vibration technology also makes it the ideal choice of machine for people looking to boost their fitness, whilst also rehabilitating from injury, or joint problems too. Lower level vibrations are good for building strength and stability.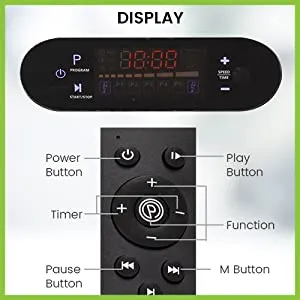 REMOTE CONTROL + LCD DISPLAY
No need to compromise your exercise by bending over and operating the machine manually whilst mid session. The Exercise Vibration Machine comes with a handy remote for seamless operation as well as a clear LCD display too.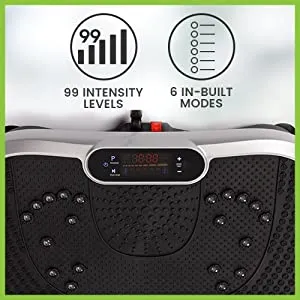 99 Intensity Levels + 6 In-Built Modes
Whether you are just dipping your toes into home exercise or are a fitness veteran, we have something for you with our Exercise Vibration Machine. 99 Levels of Intensity and 6 modes means you can tailor a workout plan that is specific to your needs.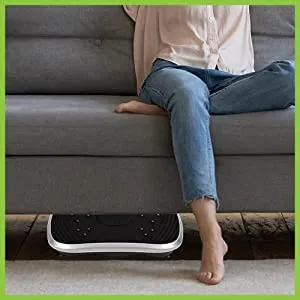 Sleek & Compact Design
Not too heavy or cumbersome and very compact, the Exercise Vibration Machine offers what other home workout equipment doesnt in that you don't need a whole room to keep it in. Sleek and compact, it is perfect to fit in the modern household.
How does a vibration plate work?
When you step onto the vibrating platform, a destabilising effect occurs, stimulating muscles throughout the body. To regain balance and stability, the muscles are pulled or flexed. Depending on your position on the trainer, your muscles around relevant joints will be stretched and stimulated by muscle spindles. This sends a signal to the brain via the central nervous system and then back towards the spinal cord for instinctive muscle contractions throughout your body. Compared to conscious training, more muscle fibres are activated due to these involuntary contractions happening at a higher frequency on the vibration plate - leading to increased overall muscle activity and faster results.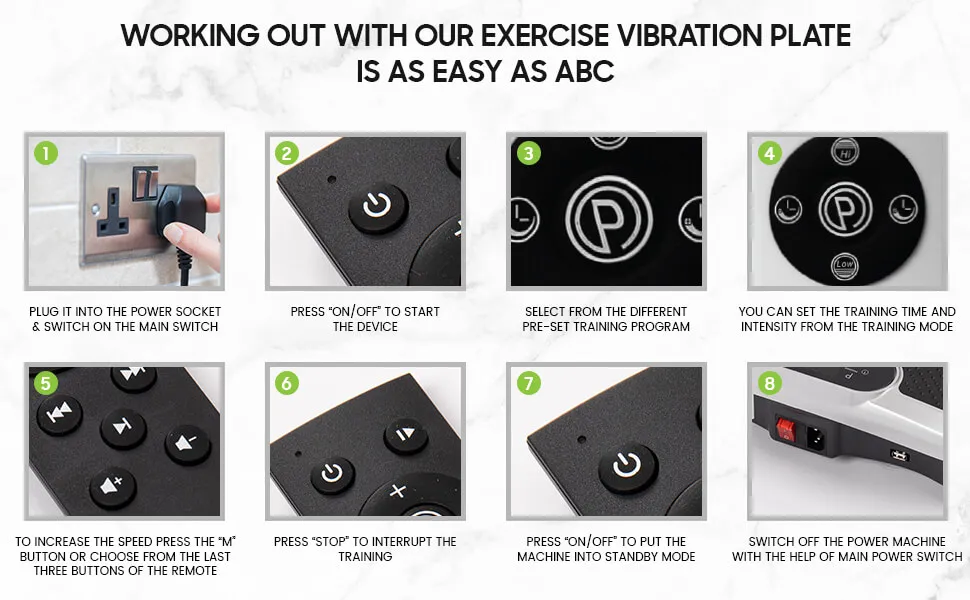 The WeightWorld vibration plate comes with a handy remote control, a built-in Bluetooth speaker to play music while you work out and 5 exercise bands, so you get a very versatile exercise machine that works your whole body by using it for just 15 minutes a day.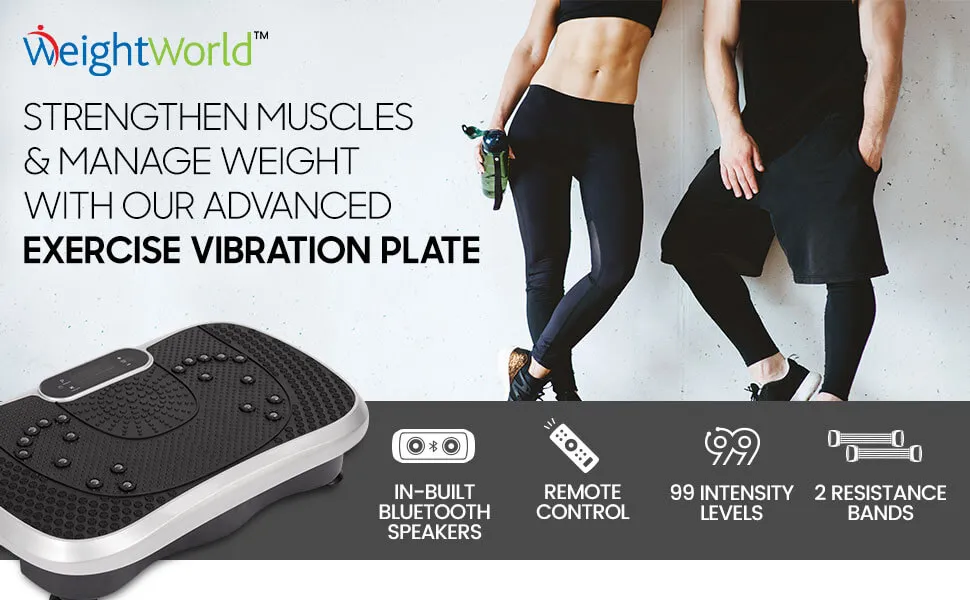 A vibration plate is surprisingly easy to use. Before use, it's important to make sure the vibration trainer is on a flat surface and that you have plenty of space around you (at least 1 metre). Then simply follow these simple steps: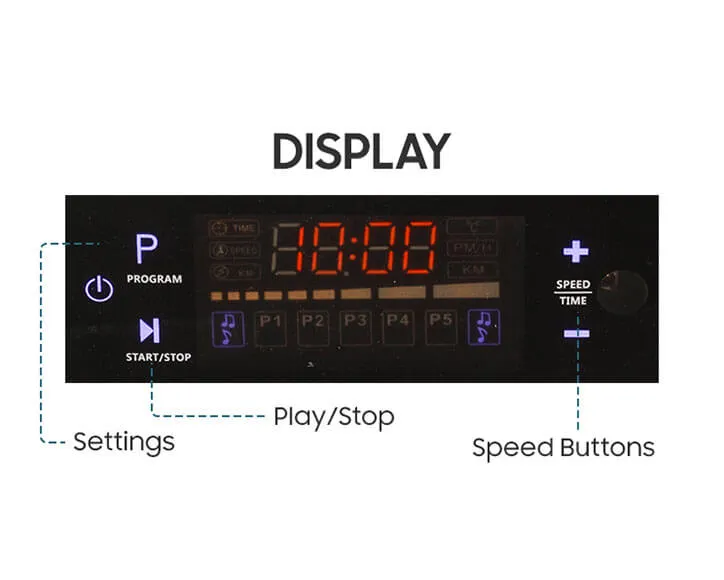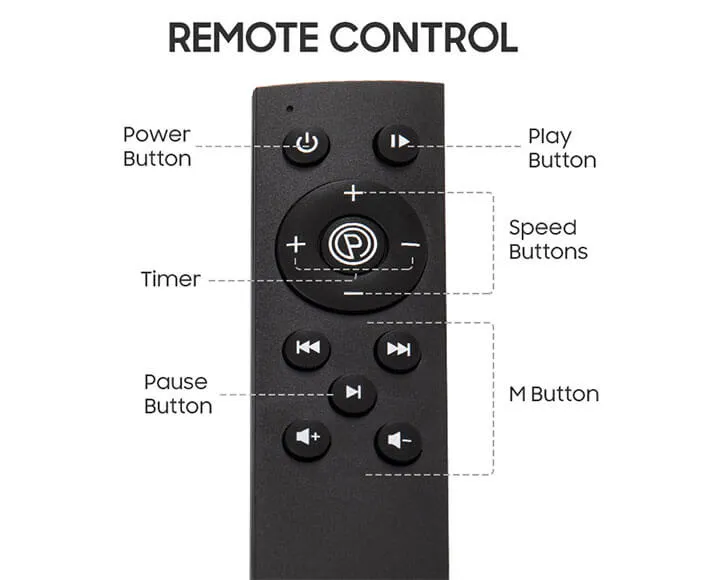 Plug the vibration trainer into a power outlet and switch on the machine. The LED display will then show "- - - - -", which means the machine is in standby mode.
Press the 'On/Off' button to switch on the vibration trainer. The display will now show "10.0"
With the "Select Programme" button you can switch between the different preset training programmes marked with "P". After selecting a programme, you can start your workout by pressing the "Start" button. Time and intensity cannot be changed in the preset training programmes.

Pre-Set Training Programmes
Speed
Intensity Levels (Higher Number = Higher Intensity)
Changes every 10 seconds
P1
P2
P3
P4
S1
10
15
20
25
S2
30
25
40
45
S3
40
20
60
50
S4
50
30
80
85

In training mode, you can set the training time and intensity yourself. To set the time, press one of the "Timer" buttons (max. 20 minutes is possible). Start the workout by pressing the "Start" button. Now the intensity can be adjusted by using the "High" and "Low" speed buttons during the workout.
To increase the speed, press the "M" button to increase the speed up to 25/50/80 and the last three buttons for 30/60/90 in manual mode.
With the "Stop" button you can pause the workout.
With the "On/Off" button you can switch the vibration trainer to standby mode after training.
With the main switch, you can switch the vibration trainer off completely.
Tips before you start
To get the most out of your vibration trainer, there are several important tips to follow:
Start slowly and gradually increase the intensity as you get more comfortable with the machine.
Take breaks between sets; a good rule of thumb is to take a 30-second break after each set.
Regularly change your position when standing on the vibrating platform - this helps to stimulate different muscles and reduce the risk of injury.
Be careful if you are prone to motion sickness or have other pre-existing health conditions that may be aggravated by using the machine.
Drink plenty of water before, during and after using the vibration trainer as it can cause dehydration.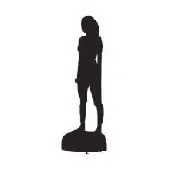 Whole Body Exercise
Stand on the plate with your feet shoulder-width apart. This will ensure that the vibrations pass through your whole body to support overall muscle tone and strength.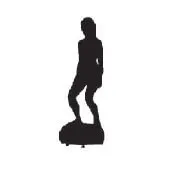 Squats
Stand on the plate with your feet shoulder-width apart and squat by bending your knees down to 90 degrees and hold. This is great for your legs and your core muscles.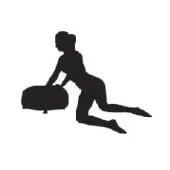 Press Ups
Position your hands in line with your shoulders and perform press-ups. If you wish to exercise the muscles more, bend your elbows to 90 degrees (plank) and hold this position.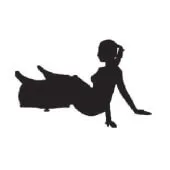 Lower Legs
Put your lower legs as shown on the plate with your hands supporting behind you on the floor. For a deeper exercise, raise your buttocks off the floor and press down on your calves.
Waist Bend
Position your legs wide apart, bend down at the waist and put your hands on the plate. Bend your elbows for a deeper exercise.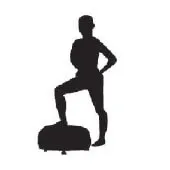 Single Foot
Put one foot on the footpad and the other on the floor. For a deeper exercise, lunge forward, placing more body weight on the plate.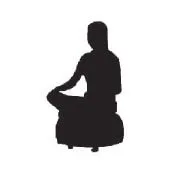 Sitting 1
Sit with your buttocks on the Exercise Vibration Machine. Sit comfortably, keeping your back straight.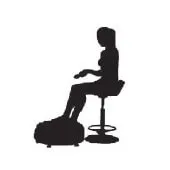 Sitting 2
Rest your legs on the device whilst sitting on a chair. This is a great way to ease tension and can help to support circulation in the legs.
Are there other names for the vibration plate?
A vibration plate is also often referred to as a vibration machine or vibration trainer..
How does a vibration plate work?
A vibration trainer works by vibrating the platform to transfer energy to the body, causing the muscles to contract and relax multiple times per second.
Does the vibration plate require a lot of space?
No, the vibration plate has a very practical size and can easily be stored under a sofa, bed or in a cupboard.
Is the vibration plate very noisy?
No, the vibration plate is completely silent and is suitable for use in an apartment or house, even in the presence of others.
How big is the vibration plate?
The vibration plate itself measures 54 x 32 x 12 cm.
Can I use the vibration plate even if I have large (or small) feet?
Yes, this is not a problem. The vibration trainer is designed to be used by everyone, whether you wear size 3 or 13 (or in between) shoes.
Is it better to use the machine barefoot or with shoes?
For optimal results, we recommend using the machine either barefoot or with socks, as shoes can absorb vibrations.
How often should I use the vibration trainer?
We recommend that you use the machine for 15 minutes every day.
Can everyone use the vibration trainer?
We recommend that you do not use the machine if you have recently undergone surgery, have a serious muscle or bone injury or are pregnant. In addition, you should consult your doctor before use if you are under medical supervision.
Frequently bought together

+

Customer Reviews
At WeightWorld we strive to offer the best possible customer service and we take great pride in the feedback we have received from our customers. All testimonials and reviews below are the experiences and opinions of WeightWorld customers. They should not be considered as health, medical or medicinal claims. They are no substitute for taking medical advice.
Outstanding

5
96.10% based on 697 Verified reviews

* Results may vary from one person to another.