What Is Garcinia Cambogia?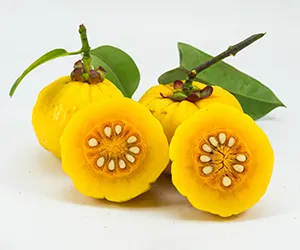 Also known as brindleberry, Malabar tamarind, kudam puli and gamboge, Garcinia Cambogia is a yellow to green pumpkin-shaped fruit from the Garcinia gummi-gutta tree. This tree is said to be originally native to Indonesia but can now be found in many tropical climates across Africa, India and Southeast Asia
What Are The Benefits Of Garcinia Cambogia?
The Garcinia Cambogia fruit is known to have many uses and is widely used in cooking and other dishes where it is grown. The most popular use of the superfood outside of eating fresh is as a supplement. This is because it is beneficial for weight loss thanks to a compound it contains called Hydroxycitric Acid or HCA for short. HCA is an amazing compound as it can help with appetite suppression so that you feel fuller for longer so don't need to eat big portions or snacks between meals. It also helps with fat burning and reducing sugar levels, which is why the Garcinia Cambogia fruit is so great as a natural weight loss supplement.
What Are Raspberry Ketones?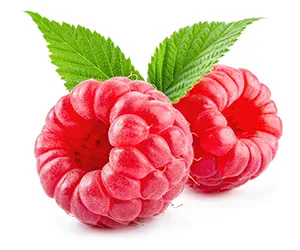 Raspberry Ketones are tiny compounds found within red raspberries and are what give them their sweet smell and vibrant colour. There are Other fruits contain similar similar ketones including blackberries and cranberries, but raspberries are said to be the most potent and, therefore, they are extensively used in the diet for weight loss in menopause.
What Are The Benefits Of Raspberry Ketones?
You will find Raspberry Ketones in cosmetics such as perfumes and make-up and foods for their natural flavouring agents. The health benefits of raspberry ketone have made it one of the most popular natural supplements. This is because, just like Garcinia, Raspberry Ketones are great for weight loss, just in a different way. Ketones promote the development of the protein adiponectin within the body. This protein regulates metabolism so it works harder to convert the food we eat into energy instead of storing it as fat. Other benefits of Raspberry Ketones include the promotion of lipolysis, the natural bodily process to break down fats.
Which One Is Best For Me?
| | |
| --- | --- |
| Garcinia Cambogia | Raspberry Ketones |
| If you want to suppress the appetite | If you want to boost the metabolism |
| If you want to reduce cravings and snacking | If you're trying to reduce fat obtained from foods |
| If you're looking to burn more fat | If you want help in breaking down existing fats |
| If you struggle to balance blood sugar levels | If you're looking to target abdominal fat |
| If you struggle to start your diet | If you want to give your diet a boost |
When it comes to which one of these 2 amazing superfoods is best, it really depends on what you want to get from them. Both are excellent weight loss supplements, so if your overall goal is simply to lose weight, then either will work. If your main struggle though is with your appetite and snacking, then the best choice for you is Garcinia Cambogia as it can help to fight cravings. On the other hand, if you're looking to give your metabolism a boost and help with fat, then the best choice for you is Raspberry Ketones.