Our price match promise
We will beat or match other retailers
Free UK delivery on orders over £35
Save on postage today
Customer Data Protection
Your data is safe and secure with us
Vitamin C With Rosehip And Bioflavonoids
1000 mg 180 Tablets
Overview
Do you often get run down by an intense fitness routine or a hectic schedule? To stay fit and be active every day, you need a robust immune system, and that's where WeightWorld's Vitamin C with Rosehip and Bioflavonoids can help! Ideal for all-round immunity, these tablets also work to help you feel less tired. With improved immunity and reduced tiredness, you can feel good and give your best in daily life!
1000mg Vitamin C tablets for optimal dosage
Works to support the function of the immune system
Perfect for boosting the body's natural defences
Vegan & vegetarian-friendly, and gluten free
180 tablets - a 6 month supply
Vegan
Gluten-free
GMP
GMO Free
Buy 1

£11.99

£14.99
Buy 2

£21.58

£23.98 You Save 10%
Buy 3

£28.77

£35.97 You Save 20%

Buy now and earn 1 Comfort Point ?
Why Do You Need a Robust Immune System?
When your immunity is compromised, you can get infected easily. A robust immune system empowers you to actively go about your day-to-day life even as you are exposed to bugs, germs, pollutants, and allergens. White blood cells are your body's first line of defence. They shield your body from viruses and bacteria so they don't barge into your bloodstream and affect the key function of organs in your body. Your immune system must work round-the-clock if you want to shield your body from illnesses & infections. A safe and natural way to take charge of your wellbeing is by supporting your immune system with Vitamin C supplementation.
Benefits Of Vitamin C Tablets
Formulated to support an active immune system, Vitamin C with Rosehip and Bioflavonoids is a great way to complement a balanced diet and a healthy lifestyle. Regular supplementation of Vitamin C contributes to:
Normal energy-yielding metabolism
Regular functioning of the immune system
Proper protection against oxidative stress
Natural production of collagen
Normal psychological function
Reduction of tiredness and fatigue
Vitamin C with Rosehip & Bioflavonoids VS Regular Vitamin C
So what separates Vitamin C with Rosehip & Bioflavonoids from regular Vitamin C supplements? Well, Rosehip provides extra elements that can help boost your immunity.
The effectiveness of this seemingly plain fruit comes from a remarkably high level of antioxidants. Rosehips contain a variety of flavonoids, carotenoids, essential fatty acids, and vitamins. In fact, they make one of the richest natural sources of vitamin C.
Rosehip
These curious red bulbs are derived from the rose plant. They're considered 'pseudo-fruits' due to the way the fruit develops. Thankfully for you, they have some fantastic body-benefiting properties! Firstly, they're high in antioxidants, and in particular vitamin C that is beneficial to your health - especially important in a vitamin C supplement! It's also known to target the immune system and maintain proper circulation. What's more, rosehip is high in polyunsaturated fats (top tip - they're the good ones!), which can help with redness and irritation of the skin.
Bioflavonoids
Bioflavonoids might be a bit of a mouthful to say, but after you find out about their brilliant properties, you might want an even bigger mouthful of them! Bioflavonoids are part of the polyphenolic group, which means they contain powerful antioxidants that can help keep the skin at its best. They're found in many common foods like fruits, vegetables and even dark chocolate - so now you have a good excuse to raid the snack drawer! They also target the heart, bones and the immune system, for an overall wellness boost.
Who Should Take Vitamin C Tablets?
These high-potency Vitamin C tablets are ideal for those looking to maintain the normal function of the immune system.
How To Take?
Take 1 tablet with your main meals to receive an optimal dose of Vitamin C that boosts your body's natural defences. Every bottle contains 180 tablets of pure and potent Vitamin C so you can boost your immunity and maintain it for 6 months.
Full List of Ingredients
Vitamin C (Ascorbic Acid), Rosehip (Rosa Canina) Powder, Bioflavonoids (from Citrus Aurantium Whole Fruit), Bulking Agents: Microcrystalline Cellulose, Anti-Caking Agents: Magnesium Stearate and Silicon Dioxide.
Advice
Do not exceed the recommended daily dose. This product is only intended for healthy adults over the age of 18. Food supplements are not a substitute for a varied diet and healthy lifestyle. If you are pregnant, breastfeeding, taking any medications or are under medical supervision, please consult a doctor or healthcare professional before use
Frequently bought together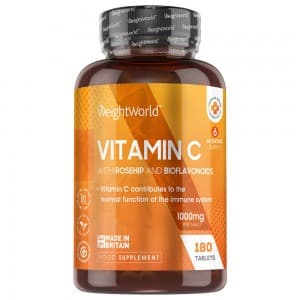 +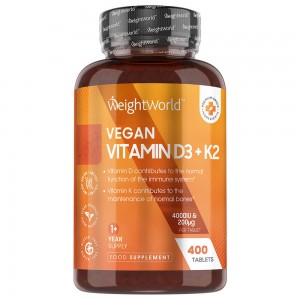 Customer Reviews
At WeightWorld we strive to offer the best possible customer service and we take great pride in the feedback we have received from our customers. All testimonials and reviews below are the experiences and opinions of WeightWorld customers. They should not be considered as health, medical or medicinal claims. They are no substitute for taking medical advice.
Outstanding

5
93.75% based on 15 Verified reviews

* Results may vary from one person to another.