Our price match promise
We will beat or match other retailers
Free UK delivery on orders over £35
Save on postage today
Customer Data Protection
Your data is safe and secure with us
Matcha Coconut Ice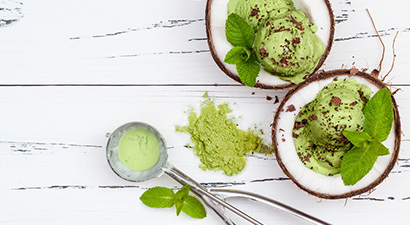 Ingredients:
2 cans of full-fat Coconut Milk (425g)
½ tablespoon of Powdered Matcha Tea
20ml Coconut Sugar
3 tablespoons Coconut Oil
50ml Lucuma Powder
A pinch of salt
Serving suggestions: You can present this dessert in half a coconut. Serve with fresh mint leaves and raw cocoa nibs or your favourite garnish.
Preparation:
Add all the ingredients to a cold bowl and stir together.
Freeze for approximately 30 minutes. When the edges begin to freeze, break the ice crystals to make the ice cream smooth and creamy. Put it back in the freezer.
Stir in the ice every 30 minutes until the mixture is smooth and creamy (repeat 4-5 times). If the ice gets too hard, you can place it in the refrigerator until it becomes soft enough to stir and continue the process.
When you are ready to eat your matcha ice cream, thaw it for 10-15 minutes or until soft. Serve in generous scoops and enjoy!