How Is Green Coffee Different From Brown?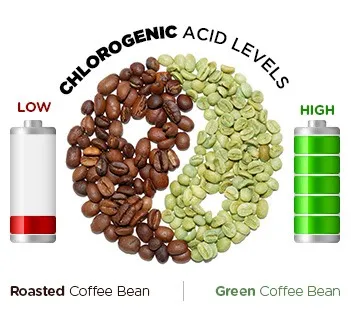 Green and brown coffee beans are completely different in taste. Unlike regular coffee beans which we usually have in our morning coffee, green coffee does not include the process of roasting, which is what keeps it naturally green. This maintains the beneficial properties of coffee, which are significantly reduced through the roasting process.
Green coffee contains less caffeine and more chlorogenic acid, which is well known to boost metabolic rate to help support weight loss. Drinking green coffee is now the latest trend for people dieting.
How Do Green Coffee Beans Work?
Green coffee beans contain polyphenols, including chlorogenic acids which, similar to grape seed extract and green tea, contain antioxidants which help the body neutralise harmful free radicals. Research has also shown that the chlorogenic acid in green coffee beans promotes normal blood pressure. Unlike coffee beverages, green coffee bean extract is low in caffeine and is not a stimulant. Chlorogenic acids are also destroyed when coffee beans are roasted which may affect blood circulation.
Health Benefits of Green Coffee Extract
Green foods have always been a staple part of the human diet. For this reason, many coffee lovers are now switching to the Green Coffee diet, which is being praised as the new revolutionary weight-loss aid that supports weight loss. What makes green coffee a healthy option? Here are some of the potential benefits of green coffee that can be achieved by using green coffee:
Weight loss

Green coffee seed first gained popularity due to its amazing ability to aid weight loss. In a study of 16 overweight young adults who used green coffee seed extract for 22 weeks, it was found that an average of 17.5 pounds of weight was lost, and approximately 16% of body fat. Green coffee bean extract contains caffeine, a stimulant linked to weight loss. It also boasts high levels of chlorogenic acid, a polyphenol antioxidant that.

Green coffee along with having a positive effect on the overall condition of the human body also helps to lose weight, making it an active member of the Superfoods to boost metabolism.

Green Coffee and Green Coffee Bean Extract are currently in the spotlight as new weight loss promoters , produced from the green beans of the Arabica plant.. Researchers speculate that Green Coffee may promote weight loss by reducing the absorption of fat and glucose in the gut, and helping to improve metabolic function.

Helps lower blood sugar

Green Coffee can help lower your blood sugar levels and even help lower the risk of Type 2 Diabetes. Pure green coffee extract benefits were documented by a study which found that 5 pre-diabetic patients did not develop diabetes after using green coffee bean extract. This could in part be due to Green Coffee's fat burning potential and its ability to help regulate and lower glucose levels in the blood.

Helps lower blood pressure

Green Coffee bean extract can also positively affect blood vessels and boost circulation, thereby regulating blood pressure. Studies suggest that you will need to consume doses of 140 to 720 mg of Green Coffee extracts to lower blood pressure in the case of mild hypertension.

Powerful antioxidant

Green Coffee extract holds many antioxidant properties due to its high Chlorogenic Acid content. Green Coffee beans are rich in antioxidants, which helps to reduce the damaging effects of free radicals in the body and promote overall well being. There are a wide variety of fantastic benefits of green coffee, in fact, just 400mg of green coffee supplements provide you with 50% of your daily antioxidant requirement.

Helps lift your mood

Drinking coffee is a great way to wake up in the morning, to feel energised and rejuvenated. In fact, a green coffee diet can help to add vitality to your energy levels. There's growing evidence which has shown that coffee boosts dopamine production in the brain. One study found that women who drank four or more cups of coffee every day were 20 percent less likely to suffer from depression.

Helps boost metabolism

Green Coffee bean extract can increase your metabolism, resulting in more immediate energy, and less conversion of glycogen into fat . Due to the lack of glucose, the body starts burning the stored fat cells in order to fulfil its energy requirements. Pure Green Coffee beans help to raise the fat burning capability, and eventually help you to shed off the excess weight.

Used for Natural Detoxification

Green coffee extract works as a natural detoxifier. It cleanses the liver to free it of toxins, bad cholesterol, unnecessary fats and so on. As the liver is detoxified, its functions improve a lot, which ultimately perks your metabolism and improves your overall health.

Helps moisturise the skin

In addition to antioxidants, Green Coffee beans are also rich in fatty acids such as Arachidonic acid, linoleic acid and oleic acid, which nourishes and moisturises the skin to prevent sagging, discolouration and other serious damage that may be a result of dry skin.
Recommended Green Coffee Bean Extract Dosage
Health practitioners recommend taking one capsule of Green Coffee bean extract three times per day. Many Green Coffee supplements have been designed to be taken 30 minutes prior to each of your three main meals. Always check the label and do not exceed the stated dose.
Remember, Green Coffee contains natural traces of caffeine, which should not affect you, unless you are very sensitive to minimal amounts of caffeine. When choosing your green coffee supplement, be sure to check that there are no additional ingredients or fillers of any kind, and that your supplement contains only 100% natural green coffee bean extract.
How To Use Green Coffee?
In the form of green beans, Green Coffee is used as a decoction. Soak 7 Green Coffee beans in a glass of water overnight. Filter the water and drink it during the day (do not exceed 4 cups per day).
The dried leaves of a coffee tree can be used as an infusion to fight fever. Place three leaves in a cup of boiling water and drink in the morning and evening.
Today there are many derivatives of Green Coffee seeds. You can find them in capsules, tablets, gels or powder form. It can also be used with other herbs like green tea or chamomile.
In conclusion..
Losing weight is a marathon, not a sprint ... and quick fixes never work in the long run. So do not expect overnight results from your green coffee. It will gradually show results when coupled with a healthy diet and physical activity.