Interesting Facts About Green Coffee Beans
As green coffee is such an amazing superfood, there are some things you should know about it first! To help you get a better understanding of green coffee beans, here are some interesting facts for you to discover: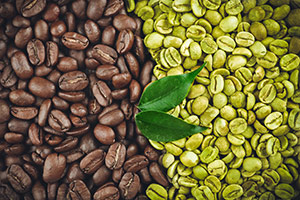 Green coffee is the unroasted coffee bean
The main active ingredient in green coffee is chlorogenic acid
Green coffee contains caffeine but less than the roasted beans
They are rich in beneficial antioxidants
Green coffee is most popular as a supplement
The top 3 countries to produce green coffee are Brazil, Colombia and Ethiopia
Green coffee can help with weight loss and metabolism
Green coffee can help with blood sugar levels
Green coffee can help with cholesterol
You can use the green coffee beans as a drink
5 Most Common Green Coffee Questions
When it comes to green coffee, there are plenty of questions floating around for people looking to find out more. Whether it's to help you decide if it is right for you or to help you pick the right green coffee supplement for your body, to help you out here are the top 5 most commonly asked questions we've been asked about green coffee bean extract.
What Is Green Coffee?

Green coffee is considered a powerful superfood and is the unroasted form of the coffee bean. Coffee beans are naturally green when they are grown, but when they are roasted, they turn brown and acquire more caffeine but lose most of their nutrients and active ingredient chlorogenic acid. For this reason, green coffee beans are perfect for those looking for a boost to their health and wellbeing and, while there are benefits of roasted coffee beans, green coffee beans are said to be much better for you.

Can You Use Green Coffee For Weight Loss And How Does It Work?

One of the most popular uses for green coffee is as a weight-loss supplement! Green coffee beans contain chlorogenic acid. This is the main compound that can assist with weight management as it can help to boost metabolism. As a result, your body can burn the glucose from the food we eat and use it as energy instead of storing it as fat. It is also said to help improve the function of the fat-burning hormone adiponectin to help with stored fat. Additionally, green coffee beans contain caffeine. Whilst this is less than its roasted counterpart, they can still help to provide energy to help motivate your workouts and aid general weight loss.

What Are The Benefits Of Green Coffee?

The reason green coffee is considered to be a superfood is due to its high levels of nutrition and amazing benefits for our health. Some of the top health benefits of green coffee bean extract include helping with:

Weight loss
Boosting metabolism
Lowering cholesterol
Balancing blood sugar levels
Supporting heart health
Protecting the body from within
Offering anti-ageing benefits
Providing natural energy
Boosting focus and mood

What Do Studies Say About Green Coffee?

One study with randomised controlled trials monitored 30 overweight individuals over 12 weeks (1). They were split into 2 groups where one consumed regular instant coffee, while the other consumed instant coffee enriched with 200 mg of Green Coffee Bean Extract. They didn't change their diet or exercise habits and after the 12 weeks, the group taking the green coffee bean extract lost 11.9 pounds (5.4 kg) and their body fat went down 3.6%. The group taking plain instant coffee, on the other hand, lost only 3.7 pounds (1.7 kg) and their body fat percentage went down just 0.7%.

Is Green Coffee Safe And Are There Any Side Effects?

As green coffee supplements are natural and made from green coffee beans they are safe to take with no known or reported side effects. There may, however, be common side effects associated with caffeine, including nausea, headaches, increased heart rate, insomnia and an upset stomach.

Green coffee is also not recommended for pregnant or lactating women. The main thing to remember in order to be safe when choosing a green coffee supplement is to choose one that is natural, that doesn't contain any chemicals, filler or binder and is from a reputable distributor.
Overview
You should now know some more about how amazing green coffee is and why it should be the newest addition to your diet. The main use of green coffee is for weight loss and there are a number of studies showing positive results for this. There are also many other great health benefits of green coffee bean extract and is a great way to look after your body with ease.