Our price match promise
We will beat or match other retailers
Free UK delivery on orders over £35
Save on postage today
Customer Data Protection
Your data is safe and secure with us
Hemp Patch
20 Patches | Natural Support for Healthy Joints
Overview
If you are looking to improve your overall mobility, these Hemp oil patches allow you to reap the benefits of our high-quality hemp at the same time as caring for your joints and bones. Infused with this wonderful, multi-use ingredient, they are better than messy creams and repetitive pills. The Hemp Patch can be worn under clothing and is great if you're looking for a speedy product to help naturally.
Natural joint and bone support
Plant-based ingredients
Safe to use on the skin
Contents delivered directly to the blood
Just 1 patch a day
Discreet & hassle-free
Buy 1

£19.99

Buy 2

£35.98

£39.98 You Save 10%
Buy 3

£47.97

£59.97 You Save 20%

Buy now and earn 2 Comfort Points ?
What is the WeightWorld Hemp Patch?
WeightWorld's Hemp Patches are the incredibly easy-to-use patches designed to support healthy bones and joints. Each patch is infused with high-quality hemp seed oil for extra fast absorption. Unlike other hemp supplements, with these patches, you will be able to experience Hemp's benefits all day long by wearing them under your clothes!
The benefits of hemp
Due to the growing popularity, much research has been carried out to find out the benefits of hemp. They have discovered that hemp seed oil and hemp seeds can be highly effective towards relieving the aches in your body's joints and bones. In addition to assisting in these areas, hemp is known for its many other amazing benefits to your overall wellbeing health including for skin, brain, immunity, and more!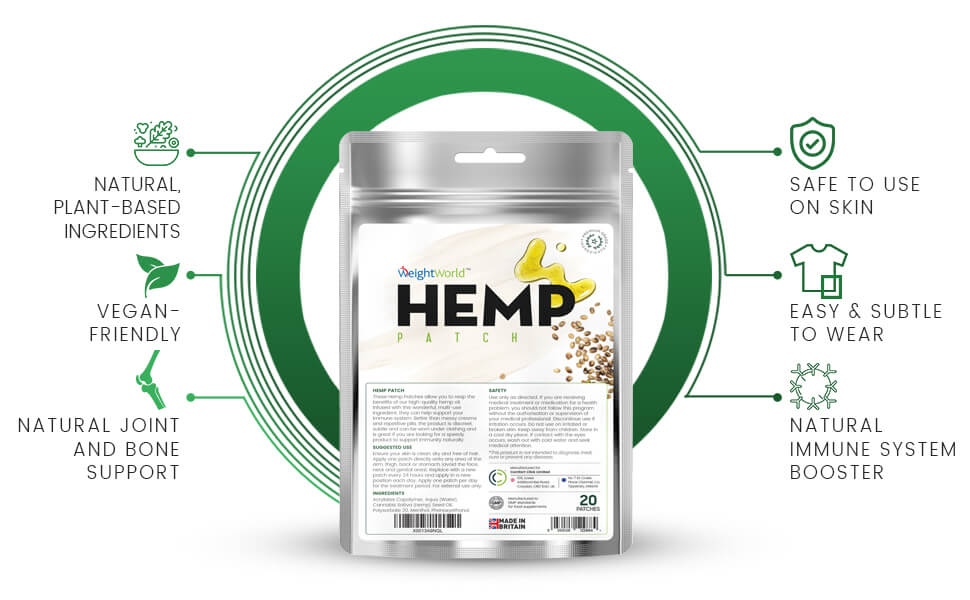 Who is it for?
Our trusted brand presents this premium product to those who are looking to give their body the best and are willing to invest in their health and wellbeing. Hemp is an increasingly popular product that can support people who do a lot of sports or have issues with joints and bones. Not only that, the product's form is simple and convenient for those who don't want to be taking repetitive pills or messy creams.
Hemp Patch Direction
Ensuring the skin is clean, dry and free of hair, apply one Hemp Patch each day on either the arm, thigh, back or stomach (not for the face). Replace the patch every 24 hours, and apply in a new position each day. Do not use on irritated or broken skin. If you are receiving medical treatment or medication for a health problem, you should speak to your doctor.
Ingredients
Acrylates Copolymer, Aqua (Water), Hemp Seed Oil, Polysorbate 20, Menthol, Phenoxyethanol.
Frequently bought together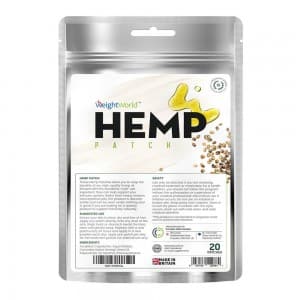 Hemp Patch
20 Patches | Natural Support for Healthy Joints
£19.99
+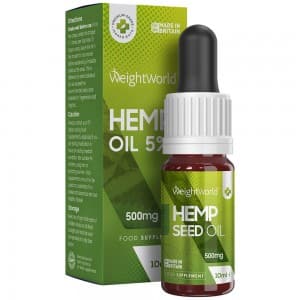 Hemp Oil
10 ml Oil | Multi-wellness Hemp Extract
£23.99 £29.99
Customer Reviews
At WeightWorld we strive to offer the best possible customer service and we take great pride in the feedback we have received from our customers. All testimonials and reviews below are the experiences and opinions of WeightWorld customers. They should not be considered as health, medical or medicinal claims. They are no substitute for taking medical advice.
Outstanding

4.5
87.14% based on 13 Verified reviews

* Results may vary from one person to another.