Our price match promise
We will beat or match other retailers
Free UK delivery on orders over £40
Save on postage today
Customer Data Protection
Your data is safe and secure with us
Active T5 & Detox Tone
Weight Management & Detox Combo
Overview
A unique combination of 2 completely natural supplements, Active T5 Plus and Detox Tone are the ideal way forward in helping you to manage your weight and detox the body. Both formulated with only the best natural ingredients, this complementary pairing is designed to be a simple addition to your daily routine and a step forward in the right direction for looking after your body.
Complete weight management programme
Cleansing and purifying
Both made with natural ingredients
Premium high strength formulas
Easy to swallow capsules
Vegan and vegetarian friendly
Individually, both of these premium supplements are nutritional powerhouses, so together they create a real force to be reckoned with when it comes to the health of the body. Both carefully crafted using ingredients specially selected for each formula, you can ensure you are only giving your body top-notch quality with these two supplements in a way that is simple, quick and safe to take.
Product that you are looking for is no longer available.
Active T5 Plus
Formulated with a unique combination of 11 amazing active ingredients, Active T5 Plus is a high performance thermogenic supplement that is enriched with ingredients such as Capsicum and amino acids. The synergy of these amazing ingredients is designed to help stimulate the body, particularly as part of a fitness and exercise program to support weight management. In addition, this natural supplement is also enriched with ingredients such as Caffeine, Green Tea Catechins and Vitamin B6 that all work together in harmony to help energise the body to get you ready for the day as well as give you the motivational boost to hit the gym.
Detox Tone
A completely natural supplement designed to help purify, cleanse and re-energise the body, Detox Tone is the perfect way to help detox. Enriched with a number of great botanical-based ingredients such as Ginger, Chlorella and Aloe Vera, this supplement has all your body needs to help it feel refreshed and revitalised from within. This remarkable supplements is ideal for those looking to detox after a heavy diet and can help you to feel lighter, cleansed and healthier, all with just 2 easy to swallow capsules a day.
How to use
Both of these two natural supplements have been designed to be simple to take and easy to add into your daily routine. Both of the supplements contain 60 capsules each, so is enough for a full 30 day programme. In order to get the most out of this supplement combination, we recommend using for a minimum of 3 months to track your personal progress, and then investing in longer term use.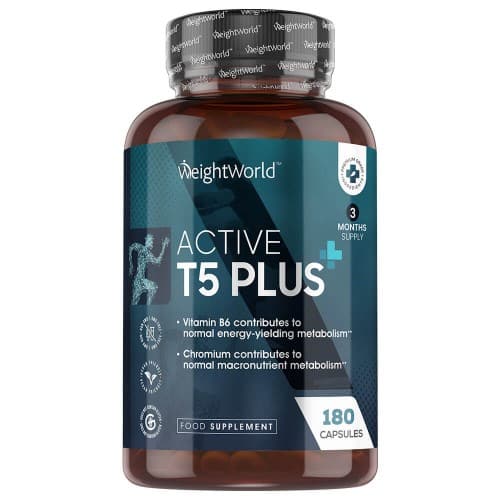 Active T5 Plus
Take 2 of these capsules a day with a glass of water, one in the morning as you wake up (ideally around 30 minutes before eating breakfast) and the second approximately 30 minutes before eating lunch. Avoid taking this supplements late in the afternoon or in the evening, as the caffeine may affect your sleep pattern.

Detox Tone
Take 2 capsules each day with a glass of water. With this supplement, it is up to you and your personal routine as to when you take the pills, however we suggest once you have chosen a time that is preferable, you then continue taking around the same time each day.
Full list of ingredients
Active T5 Plus:
Active Ingredients - Caffeine, L-Carnitine Tartrate, L-Tyrosine, L-tryptophan, Capsicum, Citrus Aurantium, Green Tea (from 4:1 extract), Naringin Extract, Bioperine Black Pepper Extract, Vitamin B6, Chromium.
Other Ingredients - Capsule Shell (Hydroxypropyl Methylcellulose), Anti-Caking Agent (Magnesium Stearate), Flow Agent (Silicon Dioxide).
Detox Tone:
Active Ingredients - Psyllium Husk Powder, Bentonite Clay, Liquorice Root Extract 4:1, Garlic Herb Powder, Citrus Pectin, Clove Bud, Fennel Seed Herb Powder, Dandelion Root Extract 4:1, Chlorella Powder, Cayenne Powder, Aloe Vera 200:1 Extract, Ginger Root Powder 20:1.
Other Ingredients - Bulking Agent (Rice Flour), Capsule Shell (Hydroxypropyl Methylcellulose), Anti-Caking Agent (Magnesium Stearate), Flow Agent (Silicon Dioxide).
Advice
Both Active T5 Plus and Detox Tone are made from natural ingredients and are safe to use with no know side effects. If you have not taken these supplements before, please read through the full list if ingredients to check for any personal allergens before taking the supplements. Do not take Active T5 Plus if you are sensitive to caffeine. These supplements are intended for use by those over the age of 18.
Customer Reviews
At WeightWorld we strive to offer the best possible customer service and we take great pride in the feedback we have received from our customers. All testimonials and reviews below are the experiences and opinions of WeightWorld customers. They should not be considered as health, medical or medicinal claims. They are no substitute for taking medical advice.
Outstanding

4.5
82.00% based on 19 Verified reviews

* Results may vary from one person to another.