Our price match promise
We will beat or match other retailers
Free UK delivery on orders over £35
Save on postage today
Customer Data Protection
Your data is safe and secure with us
Sweat Belt
Belt | Unisex Fitness Belt
Overview
The Sweat Belt from WeightWorld is the perfect accessory for boosting your workouts to aid with weight management. This unisex waist trimming belt is made of supremely comfortable, durable fabrics and comes in a range of sizes and 2 colours. The fitness belt aspires to increase your heat and sweating whilst you exercise so that you take the most out of your workouts to reach your weight goals.
Makes you sweat more and increases exercise effect
Targets excess weight
Made of durable fabrics that support your posture
Unisex belt available in sizes S - M
Available in 2 colours
Buy 1

$20.06

$30.71
Buy 2

$36.10

$40.12 You Save 10%
Buy 3

$48.15

$60.18 You Save 20%
What Is The Sweat Belt?
This waist trimmer, in short, is an ergonomically designed, unisex neoprene body shaper workout belt that is designed to be put on tight around your belly area during exercises. It works by insulating your tummy area with quality fabrics, which raises your core internal temperature whilst you workout.
How Does The Sweat Belt Work?
The raised belly temperature from the sweat waist trimmer means that exercise is more strenuous and challenging, and this is ideal for getting the most out of your performance levels. Sweat belt reviews speak for themselves and show they are also great for weight management as the increased heat and sweat loss enhances the impact of exercise and targets unwanted weight. The Sweat Belt for stomach insulation is ideal for indoor sports or outdoor sports as well and can be slipped on under workout clothes with ease.
Who Is The Sweat Fitness Belt For?
When it comes to weight management, people often look for new and innovative ways to control their weight, and technology has brought them to sweat fitness belts for men and women. A sweat fat burner belt for stomachs is just one example of a technological solution as they work to increase the volume of sweat lost in exercise from the belly, having a great impact on their weight management. The sweat fitness belt is ideal if you're someone looking to use them in conjunction with sports and other weight management methods.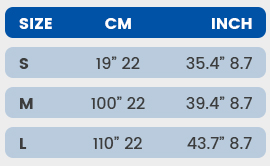 Choosing The Right One For You
When selecting the correct size, you can use the handy sweat fitness belt size chart to find the correct one for you. Remember when choosing your size that the belt can be adjusted and is designed to adapt to your body shape and size. When buying your belt we advise that you check the size is correct for you and make sure that you don't wear the fitness belt too tightly when putting it on to allow for comfort.
How To Use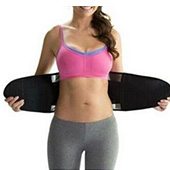 How to wear sweat fitness belts? Before putting on your neoprene Sweat Belt, make sure to remove any upper body clothing so that your stomach and abdominal area is clear. Also, ensure your belly is clean.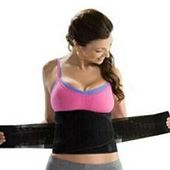 Wrap the fitness belt around your tummy and waist area and secure with the velcro so that it's tight but still comfortable. The thicker part should be on your back.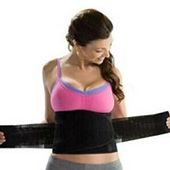 Put on any clothing over the top and exercise as normal. At the end of your exercise, simply remove the fitness belt by undoing the velcro.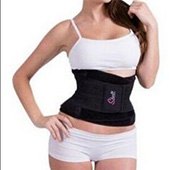 To wash your fitness belt we recommend hand-washing it after every two to three uses. However, it can be hand-washed after each use if you prefer.
Advice
The Sweat Belt is safe to use as it has been specifically designed to be worn during workouts to increase intensity and sweat levels to target excess weight. However, we recommend only using a fitness belt that fits your belly correctly and ensure you aren't using one that's too small or wearing it too tightly. Also, due to exercising with your belt encouraging increased sweating, make sure to keep hydrated and drink around 6-8 glasses of water a day (dependent on your body, lifestyle and activity levels). There are no known side effects associated with using the Sweat Belt as the fitness belt has been made from high-quality neoprene, skin-friendly fabrics.
Customer Reviews
At WeightWorld we strive to offer the best possible customer service and we take great pride in the feedback we have received from our customers. All testimonials and reviews below are the experiences and opinions of WeightWorld customers. They should not be considered as health, medical or medicinal claims. They are no substitute for taking medical advice.
Outstanding

4.5
85.78% based on 44 Verified reviews

* Results may vary from one person to another.