Depending on your health goal, the detox diet can vary widely. For some, it can be a 7-day raw food detox diet plan for intense cleansing. For others, it can be a gluten-free detox diet plan to flush out the toxins and shed a few extra pounds.
However, external factors like pollutants, stress, unhealthy eating habits, sedentary lifestyle, and circulating viruses and infections can tank your body's natural immunity, making it even more difficult to hit the detox button.
So here's a complete roadmap to kickstart your wellness journey. Follow this 7-day detox diet plan to get your health back on track and help your immune system do just what it's designed to do - repair, restore, rebuild and energise your body so you can feel great every day!
Use this detox cleanse diet plan and reboot your wellbeing!
| | Day 1 | Day 2 | Day 3 | Day 4 | Day 5 | Day 6 | Day 7 |
| --- | --- | --- | --- | --- | --- | --- | --- |
| Breakfast | Whole wheat toast + 2 hard-boiled eggs + avocado | Gluten-free pancakes | Avacado bowl with eggs | Green smoothie | Overnight oats with blueberries and cocoa | Fresh vegetable juice blended with 1 tbsp. of chia seeds | Egg white omelette with garlic, onions, tomatoes, and bell peppers |
| Snacks | Trail mix of almonds, walnuts, sunflower seeds, dried berries, pumpkin seeds, flax seeds and chia seeds | Garlic roasted chickpeas | Air-popped popcorn | Baked apple chips | Cottage cheese with tomatoes and celery | A bowl of strawberries and raspberries | A cup of greek yoghurt |
| Lunch | Raspberry and feta saladRaspberry and feta salad | Baked chicken with broccoli and brown rice | Raw Papaya and Carrot Salad | Veggie stuffed bell peppers with quinoa | Stir-fried steak and brussels sprouts | Guacamole | Steamed veggies with roasted salmon |
| Snacks | Carrots and cucumbers with hummus | Chia, Flaxseed and Banana Oat Muffin | One dried fruit bar | Dark chocolate with sliced strawberries | Apple slices topped with honey and sprinkled with powdered cinnamon | Glutenn-free coconut sugar cookies | Banana sushi |
| Dinner | Green salad with grilled mushrooms and 1/2 cup brown rice | Vegetable and lentil stew | Herbed garlic lentils with marinated tempeh | Grilled chicken, grapefruit and avocado salad | Avocadopesto pasta | Sweet potato hash with spinach and black beans | Stir-friend bell peppers with broccoli and vegetable stew |
When you complete this 7-day detox diet plan, you should be feeling rejuvenated, fresh, and energised. However, it is important to continue giving your body the best if you want to look good and feel fit, inside-out. So, while you keep up with clean eating habits, you can also introduce a natural wellness supplement to your daily diet and boost your immunity.
Overview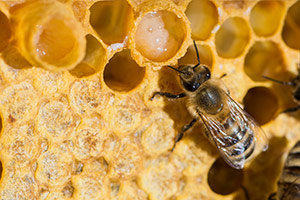 Royal jelly is the most nutritious and powerful substance that bees produce. You can get all the health-enhancing and immune-supporting benefits of this potent ingredient with naturally- sourced royal jelly supplements. Apart from being one of nature's best vitality sources, the royal jelly supplement will perfectly complement your healthy lifestyle and shield your body more efficiently.